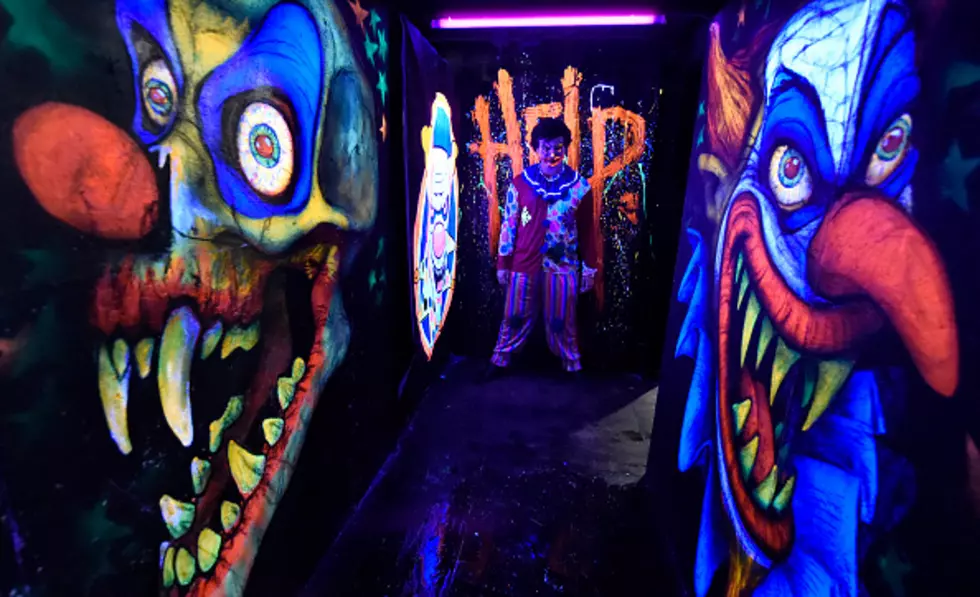 I Have The Perfect Idea For What Should Go In The Old Sear's At The Acadiana Mall
AFP/Getty Images
I'm not looking for money or credit, just a few free tickets when it opens up.
Acadiana is still reeling from the announcement that Sears is leaving the Acadiana Mall. It's a big deal for the mall, the community, and for Sears as a company. Seems like just about everybody has an idea for what should go in the 'old Sears,' and since I'm one of 'just about everybody,' I have an idea of my own.
Over the last ten years or so, closed stores in shopping malls have been re - purposed into Halloween haunted house attractions. A quick search on Google shows you just how many of these are in operation in the US right now.
Baton Rouge has 13th Gate and its associated attractions, and New Orleans has too many to count. I think Lafayette would also benefit from a major haunted house attraction, and here are a few reasons why:
acadiana mall Jared P./yelp

acadiana mall Jared P./yelp

1

Increased business for the Acadiana Mall

It's no secret that malls across the country (and the world) are struggling to compete with big - box stores, changing social trends, online shopping, and an uncertain economy. The fact that Sears is closing is not a reflection of the Acadiana Mall's performance, but Sears isn't the only store that has closed nor will it be the last.

One of the great things about the Acadiana Mall and other malls in the past was that they offered a complete package for a night out: you could take the family to dinner and a movie and do a little shopping in between and all in the same place.

A haunted house isn't a movie, but it is an attraction that draws tons of people. People arriving early could shop or grab a bite to eat before braving the haunted house, or unwind after by walking the mall to try and forget the horrors they just experienced.

Which brings me to my next point...

2

Increased traffic for surrounding businesses

Think about the restaurants and other businesses surrounding the Acadiana Mall. They're all doing well, but they'd do even better with the uptick in traffic from the haunted house/attraction. These surrounding businesses can also support the attraction and the mall with their own clientele, who may decide to brave the haunted house after dinner at Tampico's, Coyote Blue's, or Olive Garden.

3

One of the benefits any business that moves into the Sear's spot is going to have is plenty of parking. Because of the store's size, it has 3 lots for guests. Parking is a problem for some haunted house attractions (have you tried to find a place to park at 13th Gate?) but the Acadiana Mall's attraction wouldn't have that problem.

4

Cross - promotional opportunities

A major haunted house attraction that doubles as a venue for other entertainment year - round would offer lots of cross - promotional opportunities for local businesses. Halloween has been so popular in Lafayette over the last few years, we've had two Spirit Halloween stores. A third store could open near the haunted house attraction and offer discounts to the attraction with proof of purchase.

Other stores in the Acadiana Mall could also tie in to the haunted house attraction and offer deals or promotions, or even reference the attraction in their own promotions to increase foot traffic to their own stores.

5

We all know at least one person who's been affected by the decline of the oil business in Acadiana. A haunted house attraction/venue would offer lots of job possibilities for people from a variety of backgrounds: construction, graphic design, paint and decor, performance, audio and video production, and more.

6

Halloween and horror are hot!

Halloween is grown in popularity in the US over the last decade or so; Americans spent $6.9 billion on Halloween in 2016 alone! We've seen that popularity in Lafayette with two Spirit Halloween locations and a Halloween City.

Lafayette also has a large number of horror movie fans and cosplayers. The Lousiana Comic Con came to Lafayette two years ago and continues to grow in popularity and require more space for vendors and guests.

Because of these factors, Lafayette could easily support a year - round Halloween haunted house. Other year - round attractions do well throughout the year in their respective towns and cities.

7

What about the rest of the year?

While a haunted house attraction could definitely do great business year - round in Lafayette, offering other alternatives would diversify the customer base and increase sales.

The space used by the haunted house attraction could be re - purposed and reused in any number of ways. The space could be used as a venue for live music and local theater performances which could include horror - themed shows like The Rocky Horror Picture Show or Sweeney Todd.

As far as other holiday seasons go, the space could be redecorated for a Christmas - themed attraction and maybe even house year - round Halloween and Christmas stores.