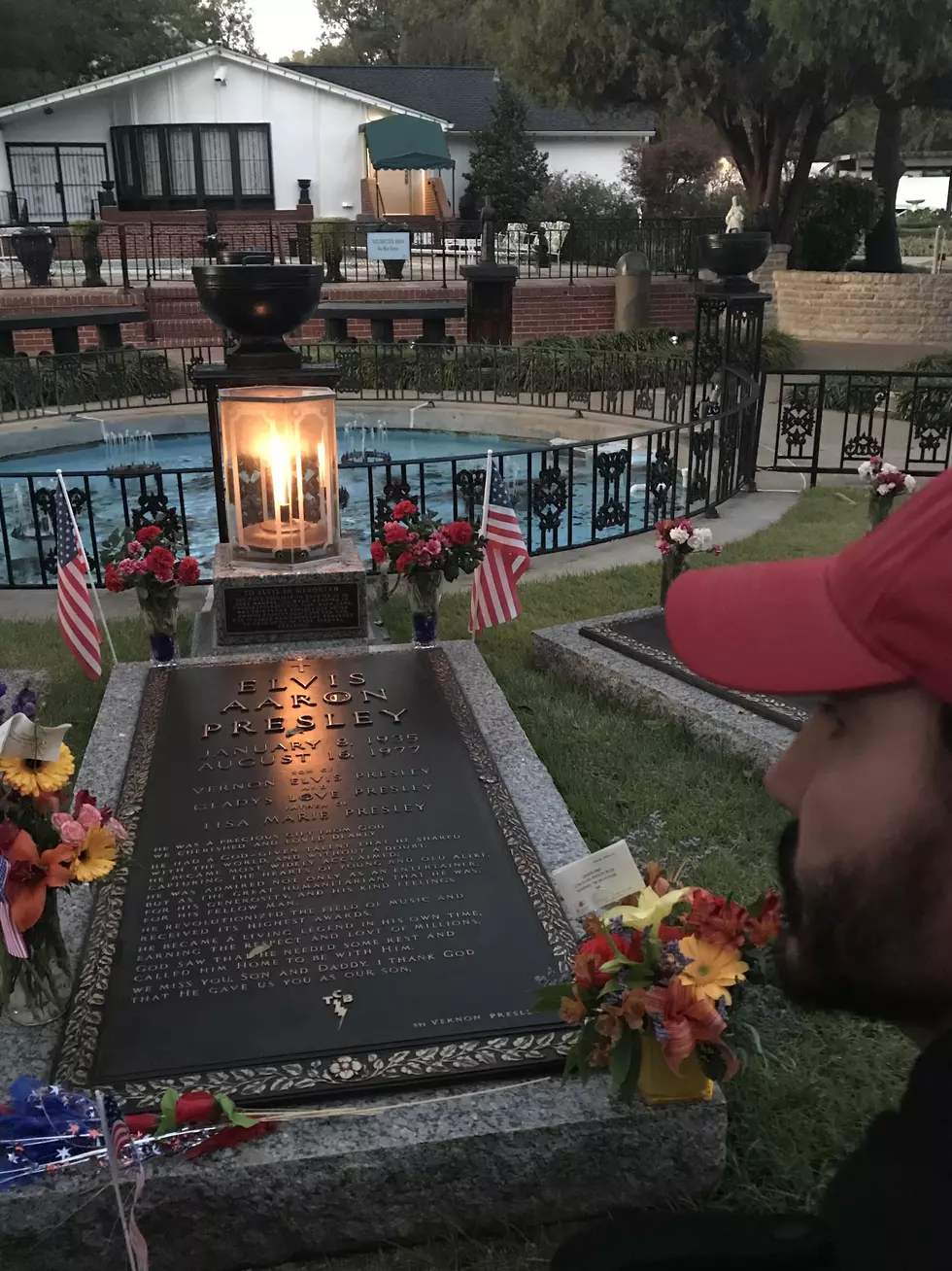 Elvis Week 42 Years After His Death, CJ Salutes With Favorite Presley Performances [VIDEOS]
Staff Photo
This week marks the 42nd anniversary of superstar Elvis Presley's death.  Elvis passed away upstairs in his Graceland mansion on August 16th, 1977 at the age of 42.  Elvis Presley Enterprises says this will be the biggest Elvis Week in Memphis since Graceland opened to the public on June 7, 1982.
The area around Graceland has become a mecca for everything Elvis.  There's the new Guest House Hotel next to the mansion and just across Elvis Presley Blvd., a much needed and deserved sprawling Presley museum fit for a King.
Elvis Presley Enterprises does a great job keeping things fresh opening new exhibits, rotating memorabilia and having unique events such as movie premieres and concerts.
Even though the area around Graceland has grown and changed dramatically over the years since Presley's passing, the mansion itself is like a time capsule.  Graceland, for the most part, is very much like he left it on that hot August day in 1977.
It's hard to believe Elvis has been gone 42 years this week.  His name and image are still everywhere.  I was recently on the Isle of Bermuda and Elvis was everywhere.  From T-shirts to people playing his music, it's like he never left us.
Elvis' career spanned 3 decades, the 1950s, 1960s and through most of the 1970s.  He was and is still a worldwide mega superstar.  I've put together performances from each of these three decades that I believe represents the man, the son, the father, and the performer.
The Ed Sullivan Show 1957.  The executives of the Sullivan show did not want Elvis to perform a gospel song.  He said, "I promised my Mom I would sing Peace In The Valley for her", and he did.
Elvis received 3 Grammys in his lifetime.  All three for Gospel recordings.  Picking a favorite performance from the 1960s was difficult. In 1969 he opened in Las Vegas after being away making movies.  It was his first time in front of a live audience in almost nine years.  He was in shape, his voice was perfection and on stage, he was like a lion just let out of a cage.  But I had to pick a performance from the 1968 Singer Special now known as the 1968 Comeback Special instead.  I believe this song has just as much meaning and emotion today as it did in 1968.
For my favorite live Elvis performance from the 1970s, I could have very well picked "How Great Thou Art" or "American Trilogy" or something from the Aloha From Hawaii concert, but I decided to go with an early 70's performance of "Suspicious Minds" from the International Hotel in Vegas.  In this performance, Presley is literally working the suit right off his body.  Notice the chains on the front of the suit, how a few of them are broken or undone.  By the way, this is my favorite Elvis jumpsuit.  Every time I end up at Graceland, I just stand in front of the glass case where it's displayed, mesmerized.