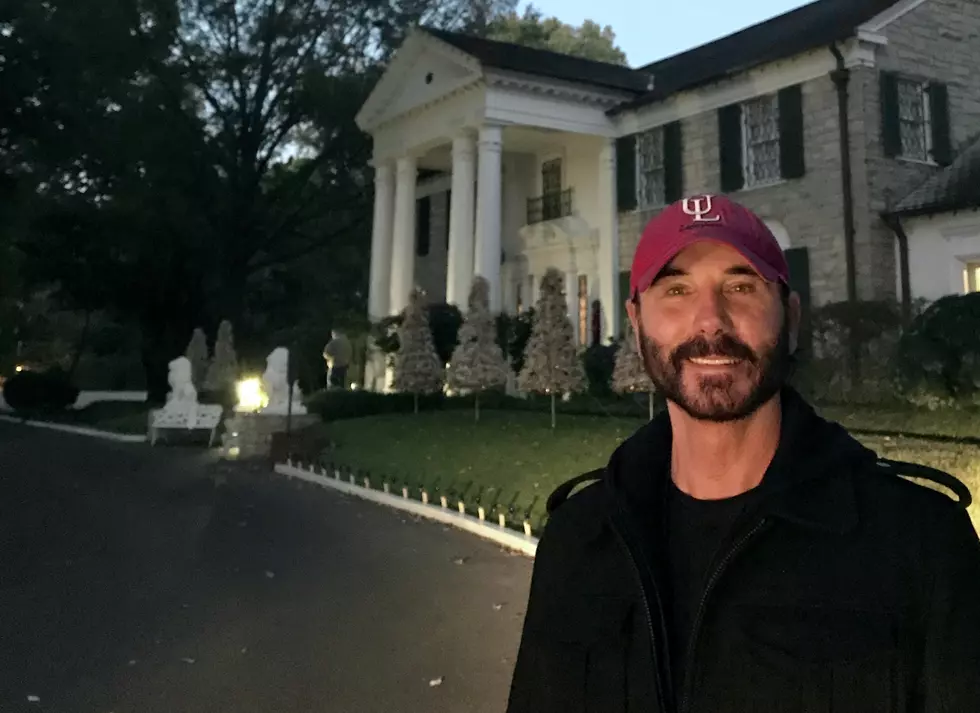 Exclusive Photos From Graceland at Christmas
Staff Photo
The annual Christmas lighting ceremony at Graceland, the home of Elvis Presley, was held on Thursday, November 17 in Memphis, Tennessee. Graceland kicked off the 3-day celebration using the very Christmas decorations Elvis used when he was alive.
Graceland looked postcard perfect as snow fell during the ceremony this year. The home of music royalty sprung into Christmas glory as the switch was thrown across Elvis Presley Blvd. No one is allowed on the grounds of Graceland during the lighting of the mansion and grounds—unless you're from Louisiana and like to break the rules.
On one of the Elvis bus trips a few years ago, Michael and Jenny Richard and myself some way or another found ourselves where we shouldn't be—right outside the front entrance of Graceland during the lighting ceremony. To this day, I'm not sure we realized we breaking any rules, not until security wanted to ban ME, not the Richards, ME from Graceland.
I thought, well look at this, we're the only regular people right in front of Graceland as we could faintly hear the lighting ceremony countdown that had started across the street from the mansion. Thinking this was the perfect opportunity to go live on the KTDY Facebook page, I did. I mean, come on, who had ever been lucky enough to be this close (literally right outside of Elvis' bedroom window) when the Christmas lights were powered on? So I reached for my phone and started streaming the whole thing live.
It was AMAZING! When all those lights come on at the same time, I swear you can hear it before you see it. There's actually a whoosh that hits your ears a millisecond before the thousands of bulbs illuminate.
On the video, I believe you could hear me say a nasty word as it scared the hound dog out of me. I wasn't expecting it to be so grand and intense. But, I had only seen it from across the street, never that closeup.
The lights hadn't come on but just a few seconds when security caught me streaming live on Facebook. They were not at all happy or amused for a multitude of reasons. The two biggest, we weren't supposed to be there and secondly, streaming live was 100% prohibited,
Security threatened to ban me from the property FOREVER and take my phone. But in some kind of way, I got out of it by proving the video was deleted. As far as why we were there, it's because I had made friends with one of the workers that evening and she turned a blind eye to us being on the property. But I did not tell security about that part.
So here we are several lighting ceremonies later and it's nothing but a wonderful memory and an evening for the record books.
These are some of my personal photos from past visits to Graceland at Christmas.
Christmas at Graceland
Living Room Christmas Tree
Living Room
Living Room Fireplace
Stairs Leading to Elvis' Bedroom
Dining Room
Area Leading to Elvis' Parent's Bedroom
Elvis' Parent's Bedroom
Kitchen
Billiard Room
TV Room
Backyard Fence
Graceland at Christmas During the Day
Top 30 American Classic Rock Bands of the '70s