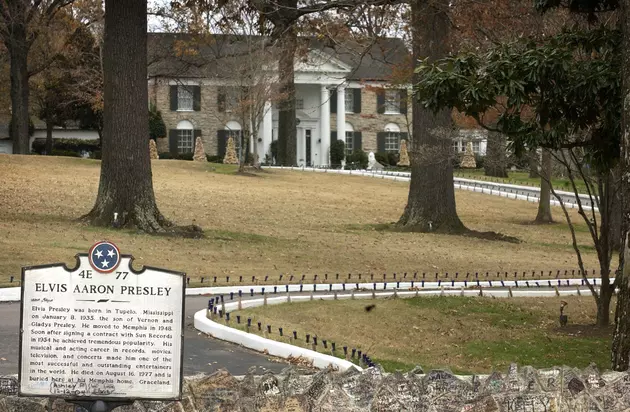 See the Exact Spot Elvis Presley Died With Newly Enhanced Video—Upstairs Tour of Graceland
Photo by Mike Brown/Getty Images
Long before the new movie "Elvis", there was a 1981 documentary about the life of Elvis Aaron Presley released after his death on August 16, 1977. In my opinion, for anyone trying to get to know the late King of Rock 'n' Roll, "This Is Elvis" is a must-see. Given the choice of watching Baz Luhrmann's current box office smash "Elvis" or the 1981 film "This Is Elvis", I would choose "This Is Elvis". Fact is, I would want to see both. But under pressure, I'd pick "This Is Elvis".
"This is Elvis" was directed by Andrew Solt and Malcolm Leo. It combines actual footage of Elvis and reenactments. In 1981 it ranked #92 at the box office.
The movie opens with Elvis (an actor) walking up the stairs to the second floor of Graceland, checking on his daughter Lisa Marie in her bedroom and then going into his bedroom by way of his office. Going through the office was a quicker route to Elvis' bedroom. This was one of the only times Graceland allowed anyone upstairs to film or otherwise.
Graceland opened to the public in 1982 and since then, no one has been allowed upstairs. It is sealed. To this day, the executives of Graceland claim the upstairs of Graceland will never be opened to the public. (I don't believe that. In due time, the crowds will slowly dwindle and one way to revive the desire to visit Graceland will be to open the upstairs. It may not be anytime soon, but I am of the opinion that the upstairs of Graceland will be open to the public in due time.)
In the movie, "This Is Elvis" you see the upstairs landing, the curved hallway, the doors to Elvis' bedroom and office, the door to Lisa Marie's bedroom (and a glimpse inside featuring her round furry bed), Elvis' bedroom and part of his bathroom, dressing room and office. Elvis died in his bathroom. When you walk into the front door of Graceland, stop immediately and look up, you are directly below where his body was found.
The original video of "This Is Elvis" is dark and grainy. New technology allows us to see the portion of the movie that shows the upstairs more clearly with comments that help the viewer understand what's being shown. The video actually shows for the first time, exactly where Elvis' body was found several hours after he collapsed while on the toilet.
4K Upgraded Video From "This Is Elvis"
Top 30 American Classic Rock Bands of the '70s