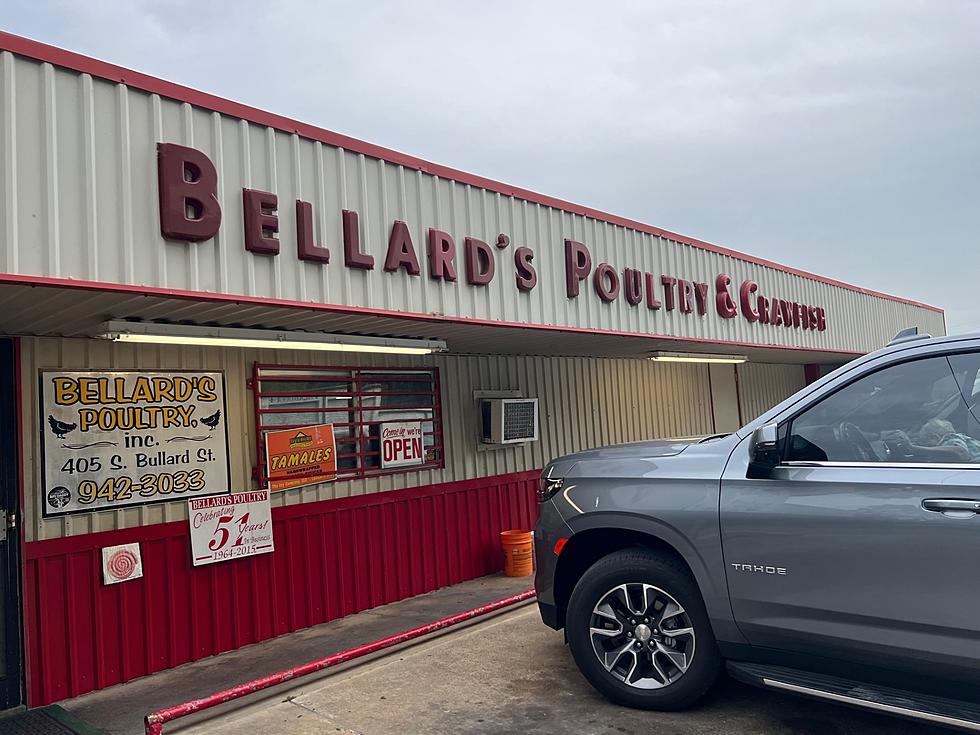 The Perfect Barbecue Starts With These Three Stops in Opelousas
Preparations for Father's Day are well underway and after the actual gifts are secured, the next step is the food. In my family, we love a good cookout. With more than 40 people coming, you need good food and lots of it. I spent Friday morning running the roads to gather the goods with my mother-in-law. Not only is she a good co-pilot, but we also get to solve all the world's problems from two comfortably air-conditioned seats.
As far as the actual barbecue goes, prepping is easy. It starts with gathering the MEATS! My wife grew up in Opelousas, so I have been spoiled by the great meat that's available there. The three stops are the original Billy's, the original Savoie's Grocery, and Bellard's Poultry and Crawfish. In that order. Take note of these locally-owned businesses before your next barbecue.
Billy's Boudin and Cracklins
904 Short Vine St, Opelousas, LA 70570
This stop is both for the meats you will cook and the ones you may want to have in the car. This is essential to keep up your energy while buying meat. For me, it was chicken cracklins for the car and chilled boudin to put on the pit this weekend. I know there is a lot of controversy over chicken cracklins, but they are easier on my teeth than traditional pork cracklins. The seasoning was simply perfect.
As for putting boudin on the grill; if you haven't done it, try it. The taste is enhanced by the smoke of a barbecue pit and the casing crisps up to create that signature pop. I was introduced to grilled boudin for the first time at a party and we have NEVER gone back. It's a great twist on traditional steamed boudin links. Moving on...
Savoie's Grocery
1742 LA-742, Opelousas, LA 70570
Savoie's Grocery in Opelousas is the closest you get to the olden days of full-service gas stations and stand-alone grocery stores in a rural area. This is where a significant part of the Savoie's operation is located. They ship products around the world every day from these unassuming buildings in Opelousas. Inside there is everything you need from food products to medicine and even handmade jewelry, but I go for the discount sausage. There is a $7.00 box of mixed sausage that was not the perfect uniform length to fit in the grocery store packaging. It's the same great sausage that has been enjoyed for generations but for a fraction of the price. But bring cash. No cards are accepted at this location. Onto our final stop of the tour...
Bellard's Poultry and Crawfish
405 S Bullard St, Opelousas, LA 70570
Bellard's Poultry is a landmark in Opelousas. As a place that prides itself on Cajun and Creole food traditions, chicken (and other meats) is often the centerpiece. The service is impeccable which makes the chicken leg quarters taste even better. So what was our order? We called ahead for 40 pounds of pre-seasoned chicken leg quarters. They are packed in a box and then again inside a black bag. This chicken needs nothing else before going on the grill. They also have just about anything you need for a great meal from seasoning to dry goods and frozen vegetables.
And even though it wasn't on my shopping list this week, I love to buy their catfish, shrimp, and crawfish. As fresh as you'll ever get and at great prices.
Thanks for coming along with me on the ultimate meat-shopping experience. I hope you and your family have a great Father's Day weekend and a great summer of cooking. If you want to follow the cooking adventures of my brother and me, follow us on Instagram at KirkpatrickCooks.