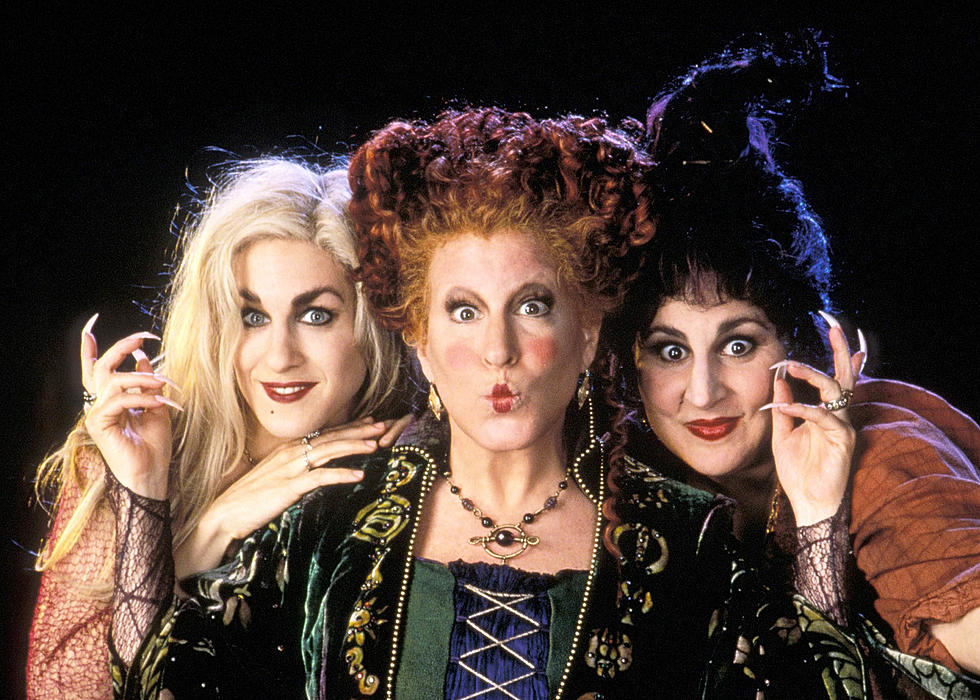 See First Look at Bette Midler, Sarah Jessica Parker & Kathy Najimy in 'Hocus Pocus 2′
Disney
Calling all witches and warlocks! Hocus Pocus 2 is currently filming and Disney+ has released the first look at the Sanderson Sisters back in action.
Hocus Pocus was originally released in 1993 and it wasn't the biggest movie at the box office. As years passed, the movie gained a cult following and new fans spanning younger generations to make the movie what it is today. You can't have Halloween without Hocus Pocus and they're coming back to run amok, amok, amok!
They look the EXACT same as they did in 1993.
The years later sequel is set to premiere in Fall of 2022, hopefully in time for Halloween! The buzz on the original movie is always loud, so I am excited to see what the sequel is going to bring!
Music and theater icon Bette Middler, who plays Winifred Sanderson, tweeted this. This alone made me squeal like a little girl at a Jojo Siwa concert!
According to ET Online -- the plot centers around three young women accidentally bringing the Sanderson Sisters back to modern-day Salem and must figure out how to stop the child-hungry witches from wreaking a new kind of havoc on the world.
Many fans of the movie are posting pictures and video on the internet of the movie filming in Rhode Island. (Not doing that here, I hate an unwilling spoiler!) The majority of the cast seems to be coming back, including my favorite, Billy!
The internet is obviously excited about the return to Salem and the Sanderson Sisters. It's not Halloween without Hocus Pocus. I will die on that hill. It's become a staple in Halloween cinema for people of all ages.
30 years! Even if the movie is not so great by critics standards, I am absolutely positive that everyone will love this movie, even if for nostalgia purposes.
I can always count on the Sanderson Sisters to bring me comfort and endless quotable one-liners I can use year round. I hope this sequel will bring even more quotes that I can annoy everyone around me with.
Things I Love About Fall in Acadiana