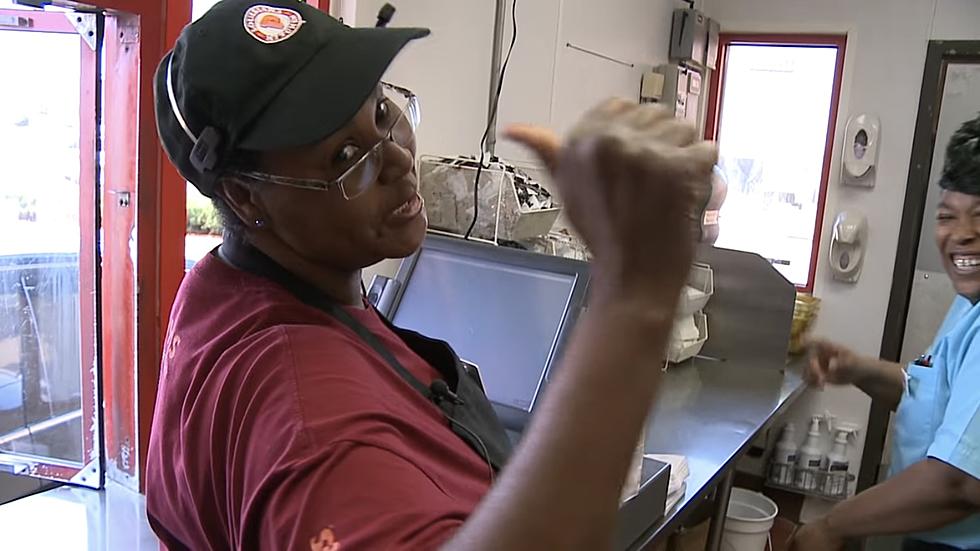 Louisiana Popeyes Employee Recently Goes Viral, But Miss Cynthia has Been Singing Orders for Over 33 Years
YouTube via Justin Abshire
An employee at a Louisiana Popeyes location is going viral after doing the most on the drive-thru intercom. After a bit of digging, I have learned that Miss Cynthia has been singing orders back to her customers and putting smiles on their faces for well over 30 years.
While Popeyes Louisiana Kitchen locations can be found across the world, it seems as though there is something special about the restaurants that are located right here in 'The Boot'.
Take, for instance, the employees of a Popeyes in Slidell who have made their place of work home for a wandering chicken. 'Rocco the Rooster' showed up to this Popeyes after Hurricane Ida and simply never left. Employees of the restaurant even built Rocco a coup out back!
I must mention the last remaining Popeyes buffet in the world, which was here in Lafayette, that unfortunately closed at the end of 2021. Folks around Acadiana were disappointed to say the least, as the buffet was somewhat of a shining medal on our uniform of uniqueness here in Cajun country.
Nevertheless, the fried chicken sandwiches are still being served across our great state and there are some pretty amazing employees working day-in and day-out to supply their hungry customer base with the delectable deliciousness they so desire.
Louisiana Popeyes Employee Does the Most on Drive-Thru Intercom
Amongst all of the Popeyes employees across the state, this woman at a location in Kenner, Louisiana sure knows how to bring the southern flare to the drive-thru when taking orders.
See the viral post from Aundra Woodfin on Facebook below.
According to the caption of this post, this Popeyes is on Loyola Drive in Kenner. Folks in the comment section are raving about how this woman makes them want to go pick up some Popeyes just get their own order sang back to them.
But after I began digging a little deeper into the comments, I soon realized that this Popeyes employee has been singing to her customers for many years now.
Who is Cynthia from Popeyes?
Throughout the comments, I could see multiple people recognizing the woman's voice as "Miss Cynthia". After doing a bit more research, I realized that Cynthia Carter had been singing orders back to her customers for over three decades.
Meet Cynthia Carter - The Singing Popeyes Employee
Miss Cynthia, as most everyone refers to her, is a bright light at this Popeyes in Kenner and across the community. She has gotten attention in the past from 'The Meredith Vieira Show' and other programs, but that incredible energy has not wavered one bit throughout the years.
To me, Miss Cynthia is a shining example of how thoroughly enjoying what you do every day can actually spread joy to those around you. Simply by bringing a smiling face and her wonderful singing to work every day, Miss Cynthia is able to make everyone she encounters just a little bit happier. Magical, to say the least.
Get to know Miss Cynthia a little bit better with the below YouTube videos.
Louisiana Restaurants Featured on 'Diners, Drive-Ins & Dives'
10 Top-Grossing Chain Restaurants in America