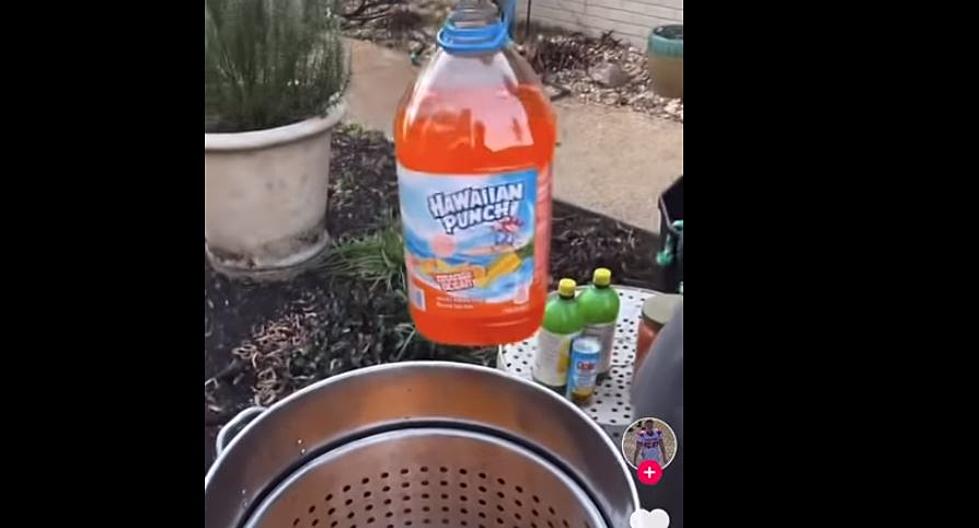 Crazy Crawfish Boil Recipe with Hawaiian Punch, Loads of Seasonings
via Facebook
You may recall when Disney recently posted their "gumbo" recipe, which left many people in Southwest Louisiana with their mouths agape.
If you missed it, allow me to catch you up: Disney posted its recipe for "Tiana's Healthy Gumbo" from the movie "The Princess and the Frog".
Why were there some (local) mouths agape? Well, this "gumbo" contained no roux, but it did have quinoa and kale. (Hence the "gumbo" in quotation marks, because that just sounds wrong)
I have not tried the Disney gumbo recipe, and, to be honest, I am not eager to try that recipe myself, but I would taste it if someone else cooked it.
Another recipe that is leaving mouths agape is circulating on the internet. It's a video recipe for a crawfish boil, and it caught my attention because of the ingredients:
3 jugs of Tropico(?) juice
1 jug of Hawaiian Punch
2 bottles of lemon juice
1 can of Dole Pineapple juice
1 can of Tony Chachere's Cajun Seasoning
1 large container of Zatarain's Crab Boil
2 containers of garlic powder
2 containers of paprika
1 bag Cajun Fire seasoning
Cayenne
1 cup of "secret weapon"
1 pound of butter
2 Louisiana Boil Booster packs
1/2 bottle of Zatarain's liquid crab boil
crawfish
corn
There's a lot to unpack here, so let's start with the obvious: the fruit juice. What the what? Juice instead of water? The only sugar I ever recall in a crawfish boil would be the low, low amount of sugar occurring naturally in the lemons and the corn. That's it.
Granted, Hawaiian Punch is mostly water, but I can't imagine what the fruit juice flavors would do to a crawfish boil flavor (other than kill it).
Let's move on to the seasonings (can you say "overkill"?). I get the fact that some people like more seasonings than other people, but that's a LOT of seasoning! (Don't think I'm not going to Google those Booster packs, though.) I'm sure that all of those flavorings add to the boil, but I think that moderation should be practiced in this situation, no?
And a pound of butter? I know that some people claim that it makes the crawfish easier to peel, but I never had a problem without the butter.
Anyway, here is the video "recipe":
My mom always told me, "Don't knock it until you've tried it" and, I must say, it worked for broccoli. Would it work for this crawfish boil recipe? I'm not too certain, but if I were invited over for a crawfish boil and this was taking place, I would at least try them. That would be the polite thing to do, no?
Fun Facts About Louisiana That May Surprise You
Dog-Friendly Restaurants in Lafayette
Here is a list of restaurants in Lafayette where your dog can join you for a bite to eat.
30 Google Images that Show Youngsville's Growth [PHOTOS]
Here are 30 Google Street View images that show Youngsville's growth over the past years.
Eight Red Flags When On A First Date