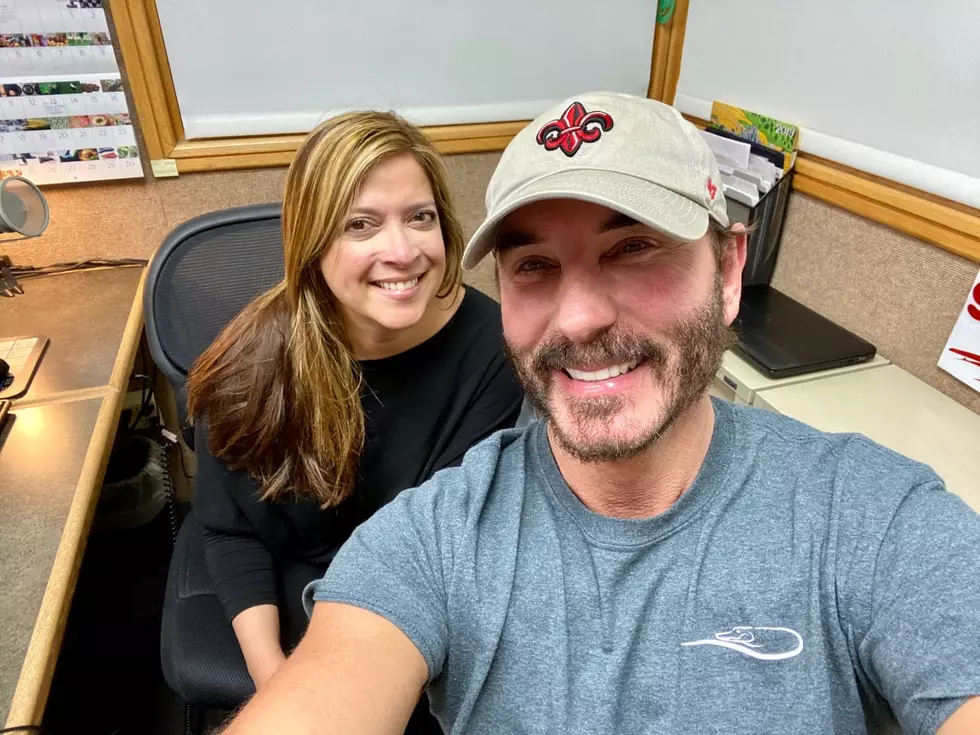 CJ and Jenn's Everything you Need to Know for Tuesday, May 12
Staff Photo
Good morning Acadiana. Governor Edwards announced yesterday that Louisiana will start to move toward phase one of reopening the state. With that information comes many questions. What exactly does 'phase one' mean? For answers to most of your questions click here.
Fibromyalgia Awareness Day
60 years ago - In 1960, Live from Miami, Frank Sinatra and Elvis Presley appeared on a TV special together. It was Elvis's first appearance after being back from the Army. He looked great. The guys did a duet that combined 'Love Me Tender' and 'Witchcraft'.
57 years ago - In 1963, Bob Dylan walked out just before his appearance on 'The Ed Sullivan Show after being told he could not perform a protest song.
42 years ago - In 1978, Hurricanes started having male names.
28 years ago - In 1992, Robert Reed, dad on the 'Brady Bunch' died of intestinal cancer and complications from AIDS. He was 59.
19 years ago - In 2001, Perry Como died of Alzheimer's.
18 years ago - In 2002, Jimmy Carter arrived in Cuba. The big deal about this? Carter was the U. S. president to visit Cuba during Castro's reign.
Clare Bowen is 36. Scarlett O'Connor on 'Nashville'
Domhnall Gleeson is 37.  General Hux in a couple of 'Star Wars' movies. He was also in the 'Harry Potter' movies.
Rami Malek is 39. Malek played Freddie Mercury in the Queen movie 'Bohemian Rhapsody'. He was so awesome in that movie, you forgot you weren't watching Freddie himself. Maybe that's why he won an Oscar for his performance.
Jason Biggs is 42. Jim in the "American Pie" movies.
Kim Fields is 51. Tootie in "The Facts of Life".
Catherine Tate is 52. Actor.
Scotty Schwartz is 52. The kid who got his tongue stuck to the pole in 'A Christmas Story'.
Stephen Baldwin is 54. Baldwin brother.
Emilio Estevez is 58. Actor.
Ving Rhames is 61. Actor.
Kix Brooks is 65. Brooks & Dunn singing duo.
Billy Squier is 70. Legendary Rocker.
Steve Winwood is 72. Legendary singer.
Burt Bacharach is 92. Superstar composer.
Yogi Berra  (1925 - 2015) Baseball legend.
George Carlin  (1937 - 2008) Legendary Comedian.
Katharine Hepburn  (1907 - 2003) Superstar actor.
10 days until Memorial Day Weekend.
40 days until Father's Day.
53 days until Independence Day.
Today: Humidity will be increasing but no rain. Mostly sunny, 82.
Tonight: Partly cloudy, 66.
Wednesday: 30% chance for rain, 85.
Thursday: 70% chance for rain, 83.
Friday: 50% chance for rain, 84.
5 Ways to Increase the Value of Your Home