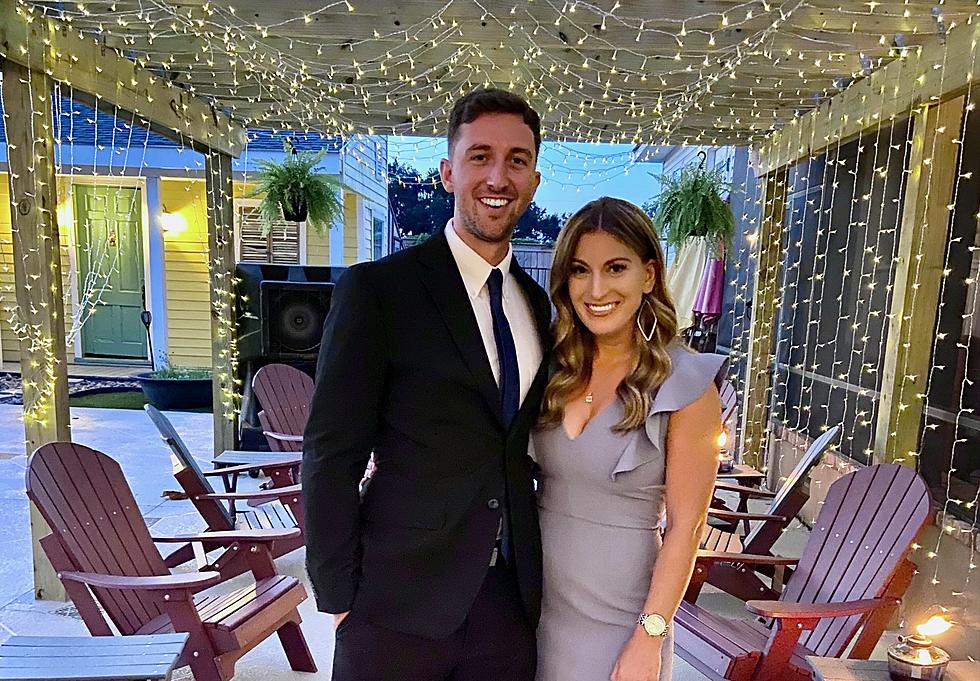 Staff Photo
Acadiana, you've been such a HUGE part of our lives, my family is very proud to let you in on a little thing that happened this past weekend in Corpus Christi, Tx. Connor and Brittni got engaged!
Connor Joseph Landry (27), the son of Jerry and Kim Landry of Youngsville, La., asked Mary "Brittni" Clements (28), the daughter of "C.J." Clements (morning show co-host of KTDY) and Deborah Phelps Clements, who now resides in Cairo, Egypt, to marry him on the beach during a weekend getaway over the weekend. Brittni said "YES!"
This picture was taken moments after Connor proposed on Corpus Christi Beach
Connor and Brittni were sitting on the tailgate of his truck, still wet from going in the water. The conversation about marriage came up which lead to the topic of a ring.
Unknowingly to Brittni, Connor had placed the ring in the pocket of his wet swimsuit when he reached inside the truck for bottled water. She never suspected a thing. Number one, she didn't know a ring even existed and secondly, how could he have a ring in his swimsuit...he was just in the water?
Connor had the ring specially designed
As the conversation continued...the relaxing waves, the sound of seagulls and the beautiful sunset created the perfect backdrop for Connor to reach into his wet swimsuit pocket, hold out the ring box and say, "This ring?"
The first picture of Brittni wearing the engagement ring
Dad, you know how I am about pictures on social media. I'm so excited, I'm sharing pictures to everyone with no makeup on, my hair is a mess and my nails aren't even done. I've been at the beach all day and I don't even care how I look. -Brittni
I saw Brittni's smile on Facetime shortly after the proposal. I have never seen my daughter smile that big. She was glowing as though her skin had tiny specks of glitter in every pore. She was radiant.
Connor, being the perfect gentleman that he is, met with me privately weeks ago at my home in Judice, La. to ask for Brittni's hand in marriage. He also talked to her mother, Deborah, and asked her as well. But he didn't stop there. Connor also reached out to Blake, Brittni's older brother, and asked for his blessing too. All of the Clements family unanimously gave our blessings and can't wait to welcome the entire Landry family into our lives.
Connor and Brittni currently live in San Antonio, Tx., separately. Connor is a financial analyst for The Fi Company, which manufacturers LED signs for slot machines and other gaming cabinets in Las Vegas. Brittni is an RN Staff Nurse at St. Luke's Baptist Hospital in San Antonio.
After marriage, the couple may relocate but will more than likely stay in Texas. Connor wants to live on a farm. (I cannot wait to watch Brittni milk a cow.)
These two kids deserve nothing but happiness. Connor is handsome, intelligent, driven, calm, and knows how to budget for their future. (If I may be a proud dad) Brittni is beautiful, intelligent, driven and one of the strongest women I've ever met in my life.
Both of my children were born with microphones in the birthing rooms. Their lives have been public from birth. You've watched them grow up, listened to stories about them on the radio and when Brittni was diagnosed with cancer in 2016 you treated her and our family as though we were a part of yours. We will NEVER forget that, nor will we ever leave you out of our lives. We always want you with us on this journey we call life and we always want you to hear news about our family from us, first.
Please join the Landry family, Deborah, Blake and me in celebrating the pairing of two extraordinary young people.
KEEP READING: Here are the most popular baby names in every state
Using March 2019 data from the
Social Security Administration
,
Stacker
compiled a list of the most popular names in each of the 50 states and Washington D.C., according to their 2018 SSA rankings. The top five boy names and top five girl names are listed for each state, as well as the number of babies born in 2018 with that name. Historically common names like Michael only made the top five in three states, while the less common name Harper ranks in the top five for 22 states.
Curious what names are trending in your home state? Keep reading to see if your name made the top five -- or to find inspiration for naming your baby.