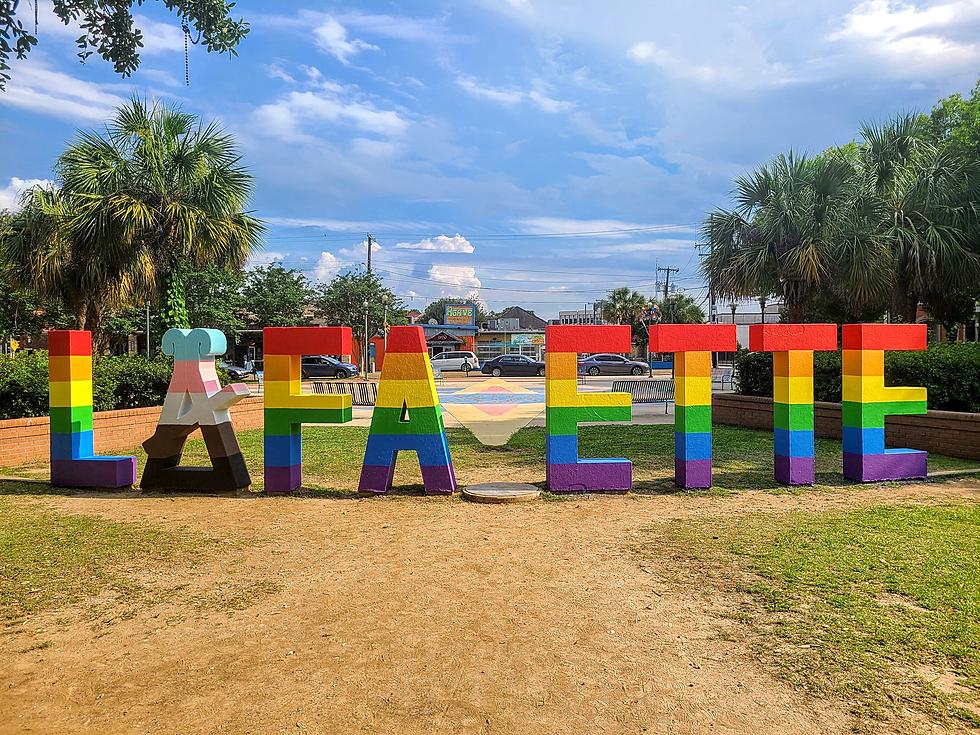 PFLAG Celebrates Diversity by Painting the LAFAYETTE Sign
Photo submitted by Peyton
The Lafayette Chapter of PFLAG has once again painted the Lafayette sign in Parc Sans Souci rainbow colors for June, Gay Pride Month.
The organization's (formerly Parents and Friends of Lesbians and Gays) board members and other volunteers did the work, even some passers-by stopped and helped.
This year's color scheme is, for the most part, the rainbow colors, which have for a long time now represented gay pride. What is new this year is the color scheme on the first "A" in the Lafayette sign.
The first "A" in the sign is shaped like a "T-Frere", or a musical triangle used by Cajun musicians, and includes the black, brown, "baby" blue, and "baby" pink colors of the Progress Pride flag. The Progress Pride flag added the extra colors to help include the Persons of Color who celebrate Pride Month.
The sign will remain painted with the Gay Pride colors until July when, typically, it is repainted with the red, white, and blue of Old Glory.
I asked PFLAG Lafayette President Matthew Humphrey about how seeing the Lafayette sign painted in Pride colors makes him feel:
It personally gives me a lot of hope for the direction our city is headed - toward being a more inclusive, loving place for all. Pride month, honoring the half-century struggle for equality for our community, is nationally recognized, though we continue to work to have it recognized by Lafayette's leadership. PFLAG Lafayette is honored to be able to paint the sign again this year to give our local LGBTQ community and allies something to make Lafayette feel a little more like home. - Matthew Humphrey, President of the Lafayette Chapter of PFLAG

 
Humphrey encourages everyone who supports equal rights to head to Parc Sans Souci to take a picture as the "Y" in the Lafayette sign and post it to social media with the hashtag #PFLAGLAFAYETTE.
If you would like to be more involved in helping PFLAG with their cause, you can contact PFLAG via their Facebook Page for more information, to donate, or to become a member.
PFLAG Lafayette wants to thank Travis Gauthier of ZOOM Photography for the pictures of the Lafayette sign posted to their Facebook page.
Seven Crazy Louisiana Town Names Explained