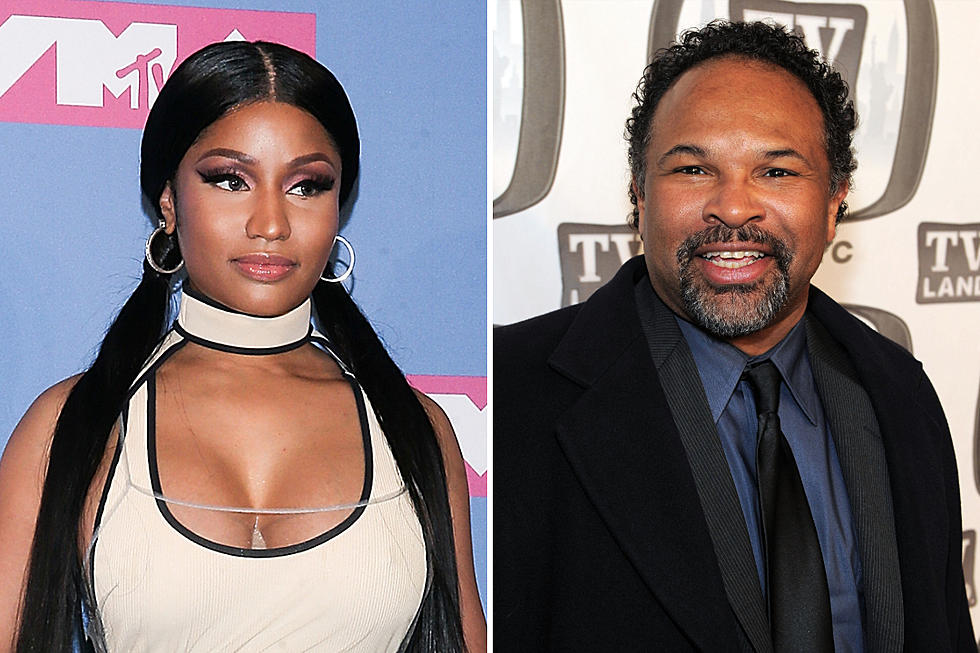 Nicki Minaj Pledges $25,000 Donation to Former 'The Cosby Show' Actor Geoffrey Owens After He Was Job-Shamed
Paul Zimmerman/Larry Busacca, Getty Images (2)
Nicki Minaj is in a giving mood. The rapper today (Sept. 6) announced during the latest episode of her Beats 1 radio program that she will be giving $25,000 to Geoffrey Owens, the actor who played Elvin Tibideaux on The Cosby Show. However, his acting career didn't last forever, and he took up a job at Trader Joe's, where he was photographed working a checkout counter and shamed online.
"They took a picture of Geoffrey Owens and put this muthafuckin' man on the muthafuckin' internet while he was fuckin' baggin' up some fuckin 'groceries to feed his muthafuckin' family," Nicki said on Queen Radio. "I personally want to donate on behalf of Queen Radio $25,000 to Geoffrey Owens today. You know why? Let me tell you something. This man is a whole fuckin' legend in these streets."
Minaj continued by calling out the customer who photographed Owens at the New Jersey grocery store and considered the images newsworthy enough to share with the Daily Mail, which quoted the woman as saying, "It made me feel really bad. I was like, wow, all those years of doing the show and you ended up as a cashier."
The photos circulated online, largely driven by coverage framing the actor's day job as embarrassing. Owens ultimately quit his position. "The pictures of me, the words that were used to describe me, were so demeaning," he told The Hollywood Reporter. "It was humiliating, acutely, for a very short time—and then there was this amazing rescue from the world."
Owens, who more recently appeared in the shows It's Always Sunny in Philadelphia, That's So Raven and a 2017 episode of Lucifer, revealed in his THR interview that he's received multiple television offers, plus emotional support from fellow Cosby Show alumni Keshia Knight Pulliam, Malcolm-Jamal Warner and Sabrina Le Beauf since the story went viral.
"It's been a real generosity of spirit and a generosity of action where that is concerned," he said.
Nicki's donation comes the same week that she appeared on The Ellen DeGeneres Show and donated $50,000 each to three college students to help them pay off student loans. She previously pledged 37 college scholarships to students in July.
Listen to Minaj's pledge and comments on Owens' situation below.
See Photos of Nicki Minaj's Different Looks Over the Years