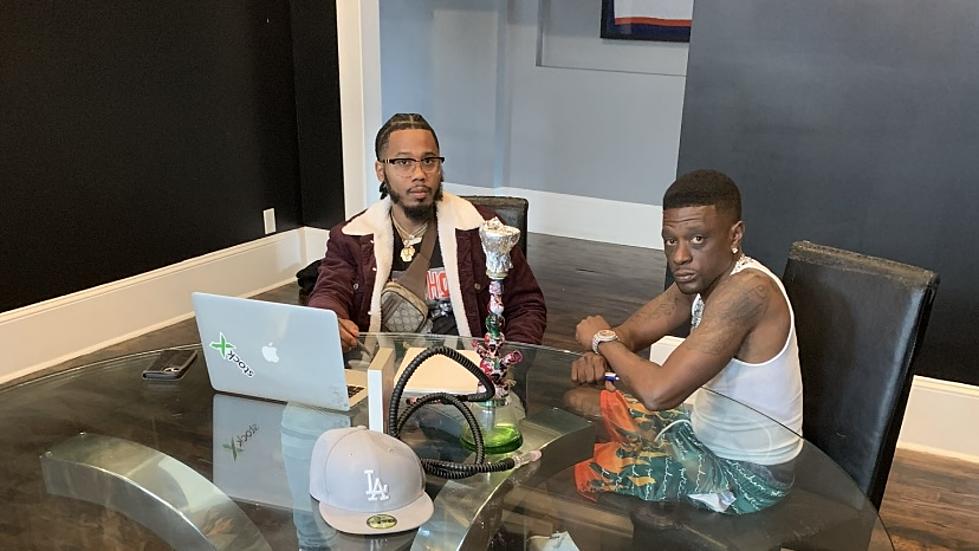 Internet Reacts to Man Who Turned Down $20k to Have Dinner with Lil Boosie Instead
Twitter via @Lon6z
Baton Rouge rapper Boosie Bad Azz aka Lil Boosie has once again set the internet on fire after asking social media if they would rather have dinner with him or receive $20,000. A Los Angeles based rapper turned down the cash and took Boosie up on the offer for dinner instead, but the internet has mixed reactions to his decision.
Lil Boosie has become a constant presence on social media, as his activity online regularly makes headlines. Recently, the Baton Rouge born rapper became an ordained minister but was charging a hefty fee for his services.
While Boosie does play into his fair share on antics online, he also remembers to give back to his community like when he handed out free turkeys in Baton Rouge this past Thanksgiving with the help of some U.S. Marines.
But Boosie's handouts can sometimes come with a caveat, as the rapper recently went to Twitter to ask his followers a fairly simple question. I tried to find the original Tweet, but Boosie must have deleted it following his interaction with Lon6z which you can see in the screenshot below.
The L.A. rapper was shooting his shot with Boosie, as he saw an opportunity to link up with a well-established artist. So Lon6z decided to slide in Boosie's DMs and you can see how that conversation went below.
Boosie seemed to have doubled-down on his offer of $20k to make sure the rapper was serious about his decision. Once Lon6z assured Boosie that he would prefer dinner, the Baton Rouge rapper got serious and connected the L.A. rapper with his people.
This update from @Lon6z on Twitter shows us the full-spectrum of where things with Boosie began, to where they ended up.
Yes, Lil Boosie put out a question on Twitter that allowed his fans to decide between $20,000 or a dinner with him. One fan chose dinner and actually got the sit-down he desired.
Lil Boosie Collaboration with Rapper on Twitter
Apparently, the sit-down between Boosie and Lon6z went well enough for the two artists to collaborate on a track together. See a clip of the song below.
Pretty impressive that a reply to a Tweet led to Lon6z having Lil Boosie on one of his tracks and be featured in the music video. But, there seemed to be some controversy sparking as a result of the two rappers linking up on a song.
Is Lil Boosie in a Fraternity?
Apparently, Lil Boosie wanted to join Lon6z's fraternity. According to the below interview via @rapupdatestv below, Boosie wanted to be a member of the Alpha fraternity. But the L.A. rapper was not letting that happen.
In the video, Boosie was wearing the Alpha fraternity's jacket. But the L.A. rapper made it clear that Lil Boosie was not a member of the frat since he doesn't go to college.
It seemed to become well-known after the video shoot that Boosie took a liking to the Alpha jacket, as he even tried to walk off of set with it.
Now, Boosie joining a fraternity was not the main point of this story. The main point was that Lil Boosie seemingly offered Lon6z $20k in a Twitter DM, but the L.A. rapper passed and took the dinner instead.
Twitter Reacts to Rapper Passing Up $20k for Dinner with Lil Boosie
See some reactions to the decision made by the L.A. rapper via Twitter below.
Yes, there was a lot of criticism of Lon6z and his decision to pass on the cash for a dinner with Lil Boosie. But, I actually respect the move.
In reality, $20,000 will only get you so far. Yes, that is a lot of money which many people would appreciate at this point in time. But for an aspiring rapper, getting the chance to sit down with someone who has made a career as an artist could prove to be priceless.
Check out the full track featuring Lil Boosie via YouTube below and decide for yourself if Lon6z made the right decision.
My final thoughts - I like Lon6z's hustle. He took a chance on a Lil Boosie Twitter post and ended up with a feature. Was the $20,000 offer legitimate? Maybe so.
But the legitimacy of being able to ask questions and learn from someone who has been in the music game for decades far surpasses some extra cash in my opinion.
So to Lon6z, I say keep up the good work. Keep shooting your shot and who knows which artist will be featured on one of your upcoming tracks.
And to Lil Boosie... man - just keep being you. The entire internet truly appreciates it.
Some Common Myths about Louisiana Debunked
7 Things Louisiana Does Better Than Anyone Else