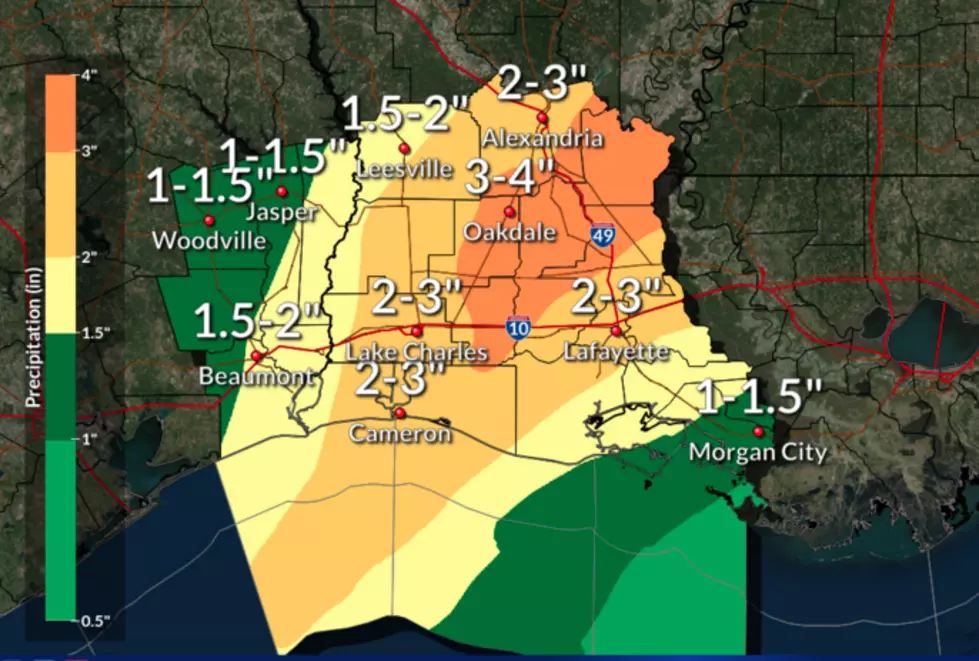 Flooding Rains Severe Storms Possible in Acadiana Today
weather.gov/lch
A low-pressure system and associated warm front are currently centered over southeast Texas this morning. The location of this storm system and the fact that it's pulling an abundance of moisture out of the Gulf of Mexico are the reasons the forecast for much of South Louisiana includes a lot of rainfall.
Forecasters with the National Weather Service Office in Lake Charles are suggesting that rainfall totals of one to four inches will be quite commonplace across the I-10 corridor over the next 24 hours. Some locales could see even higher rainfall totals in some of the heavier downpours associated with this system.
As you can see via the latest National Weather Service Radar scan,  large areas of light to moderate rain are already moving onshore and across South Louisiana this morning.
The Storm Prediction Center has placed much of South Louisiana in the Marginal to Slight Risk category as far as severe weather potential is concerned. Although the greatest threat for strong to severe storms does appear to set up from the Lafayette area eastward, at least for this morning and afternoon.
There are currently flood warnings posted for the Vermilion River at Surrey Street in Lafayette. The Calcasieu River in Glenmora, and Bayou Des Cannes near Eunice. These flood warnings are expected to be in place through the day on Friday but might be canceled earlier should rainfall totals not manifest as forecast.