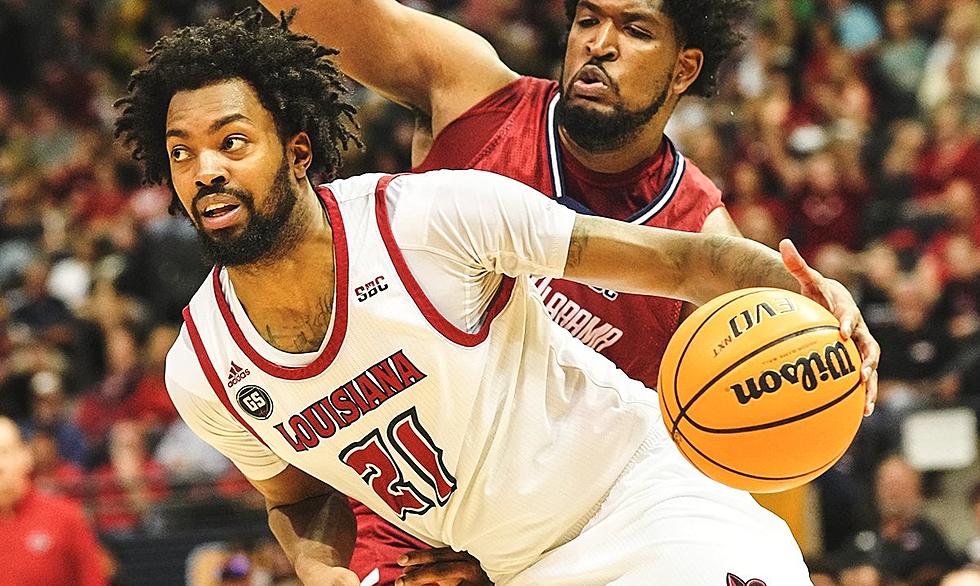 Your Louisiana Ragin' Cajuns Are Sun Belt Champions
via @RaginCajunsMBB on Twitter
After putting together an incredible season, the Ragin' Cajuns men's basketball team were looking to bring home the Sun Belt Championship.
After a couple of convincing victories over Georgia Southern and Texas State, the Cajuns would face the red-hot South Alabama Jaguars. The 8-seed Jaguars had rolled their way through the end of the regular season and the tournament.
The Cajuns had already faced these Jags twice before. Both of their previous matchups were close, requiring the Cajuns to make second-half comebacks.
This championship game was an absolute nail-biter. The Jags put up a hell of a fight and the teams traded runs for the majority of the game, with South Al pulling ahead, only for the Cajuns to catch up.
The Cajuns did the same thing in the second half of this one as they did in their previous matchups. They came back, took the lead, and held on for dear life.
The win probability graphic for this one looks a lot like my hypothetical heart monitor during the game.
But the Cajuns took it home, and they're playing some more March basketball.
Now they'll have to wait for Selection Sunday to find out where and who they'll play in the Big Dance, but some predictions have already surfaced from analysts who claim to know about such things.
Frankly, the Cajuns won't be concerned about that until later this week, because they're going to make sure they take time to celebrate this victory.
As well they should.
Geaux Cajuns.
Pro Athletes From the Acadiana Area
Louisiana has produced some of the best pro athletes in the world, especially in Acadiana.
Every NBA All-Star in New Orleans Hornets/Pelicans History
Since the Hornets came to New Orleans in 2002, nine different players earned All-Star status while with the team, with a total of 18 selections overall for the Pelicans franchise.
The Worst Tattoos on Professional Athletes
Some tattoos are more regrettable than others.