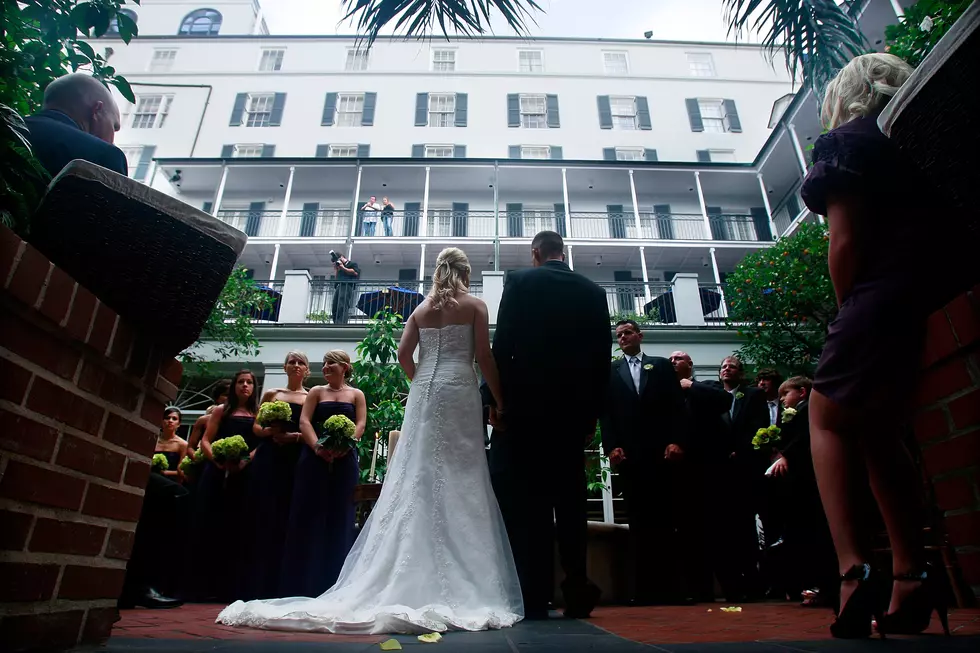 Unique Places to Get Married in Louisiana
Mario Tama/Getty Images
We know that people come from all over the world to enjoy our hospitality here in Louisiana, and sometimes they even make our state a 'destination wedding' spot.
Only in Louisiana has some amazing and unusual locations to get hitched here in the Bayou State. Pass this list along to anyone who doesn't want a cookie cutter location to say their vows.
Bayou Barn,

7145 Barataria Blvd, Marrero

. Have your wedding under the stars, cajun style at this cute spot. They even have extras like an alligator handler for the festivities
Beau Jardin,

760 Front St, Natchitoches

. a romantic setting right on the Cane River in Louisiana's oldest city. This outdoor venue also features a beautiful waterfall
Mardi Gras World,

1380 Port of New Orleans Pl, New Orleans

. You can experience a magical time at one of the several wedding venues they have on the property, including the Southern Mansion
Houmas House and Gardens,

40136 LA-942, Darrow. Your special day can take place at one of the oldest plantations along the River Road. Say your vows at the same place that movies and television shows have been filmed

San Francisco Plantation,

2646 LA-44, Garyville

. A beautiful southern home that has been standing since 1849, and features gorgeous Greek revival architecture
Empire of the Seed,

844 Ryan St, Lake Charles

. Beautiful restored historic building in downtown Lake Charles.
Stella Plantation,

4881 LA-39, Braithwaite

. Standing under the majestic live oaks and lush greenery is a perfect start to your ceremony. Just 30 minutes outside of New Orleans
Hill Country Village,

12475 Ellerbe Rd, Shreveport

. A rustic country setting right in the middle of town could be the setting for your special day
Rip Van Winkle Gardens,

5505 Rip Van Winkle Rd, New Iberia

. Beautiful botanical gardens, and a rumor that the pirate Jean Lafitte buried his treasure on the grounds.
Acadian Village,

200 Greenleaf Dr, Lafayette

. Go back in time to a place that shows the beauty and elegance of where our cajun culture began.
The Louisiana Castle,

47168 LA-10, Franklinton

. What bride wouldn't want to wed in a real life fairy tale castle?
Cypress Grove,

150 Seale Ln, Eunice. Formerly known as the Chapelle Country Store, you can get married at the last place known to be robbed by Bonnie & Clyde before their untimely demise in 1934.