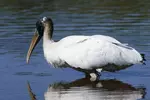 Rare Wood Stork Viewing Event Near Baton Rouge
De Agostini/Getty Images
Birders and other nature enthusiasts will have the opportunity to see rare wood storks and other wading birds next weekend near Baton Rouge.
The Louisiana Department of Wildlife and Fisheries and Army Corps of Engineers are offering a viewing event next Saturday, Aug. 12, from 7 a.m. to noon in the South Farm area of the Sherburne Wildlife Management Area, reports U.S. News.
Viewers are encouraged to arrive as early as possible for the best chances of seeing a wood stork - the only stork native to North America.
The South Farm area is in Iberville Parish off Interstate 10, about 25 miles (40 kilometers) west of Baton Rouge. The viewing is free to the public,  but anyone between the ages of 16 - 60 must have either a valid Louisiana hunting or fishing license or a Wild Louisiana Stamp. Stamps are available where hunting and fishing licenses are sold or by clicking here.