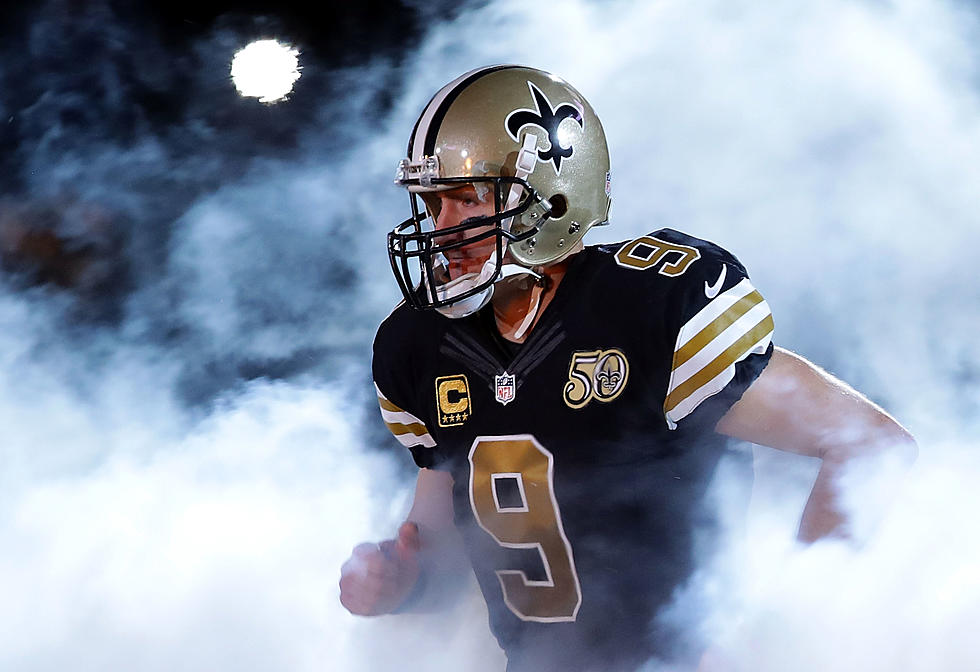 NFL Records Drew Brees Holds And Records He Can Still Break
(Photo by Sean Gardner/Getty Images)
Last night, New Orleans Saints QB Drew Brees made history as he became the all-time leading passer in NFL history. That's right, Drew Brees is the G.O.A.T. However, he's far from done collecting NFL records. I thought we'd take a look to remind ourselves just how many NFL records Drew Brees currently holds, and take a look at the records he can still break.
Sbnation.com has collected a lot of this information on Brees and has plenty more that you can checkout HERE.
The crazy thing is, Drew Brees is still playing at as high of a level as he ever has since becoming a Saint in 2001. He looks as good this season as ever, if not better, so who knows how many more seasons he still has left.
Oh, and Drew Brees is also one the most accurate Quarterbacks in history as well.
NFL Records Drew Brees Currently Holds
1) Career completion percentage (67.1 percent)
2) Consecutive seasons with 4,500 passing yards (7, 2010-16)
3) Single-season passing yards per game (342.3 yards, 2011; tied with Peyton Manning  in 2013)
4) Career completions (6,344)
5) Most seasons leading the NFL in passing yards (7)
6) Most career 400-yard passing games (16)
7) Most career 300-yard passing games (111)
8) Total completions in a season (471 in 2016)
9) Single-season completion percentage (72 percent in 2017)
10) Touchdown passes in a single game (tied for first with 7)
11) Consecutive games with a touchdown pass (54)
12) Consecutive games with 300 passing yards (9, twice)
13) Most 5,000-yard passing seasons (5)
14) Most seasons leading the league in passing (7)
15) Leading passer in NFL history (currently 72,103 passing yards)
NFL Records Drew Brees Can Still Break
1) Career passing attempts - Currently held by Brett Favre with 10,169. Brees is currently in second place with 9,455. Brady is pretty far behind Brees with 8,984.
2) Career passing touchdowns - Brees currently has 499, Brady has 500. Peyton Manning holds the record with 539
3) Most starts in NFL history - Brees currently has 252 starts, behind Brady with 256 and Favre with 298.