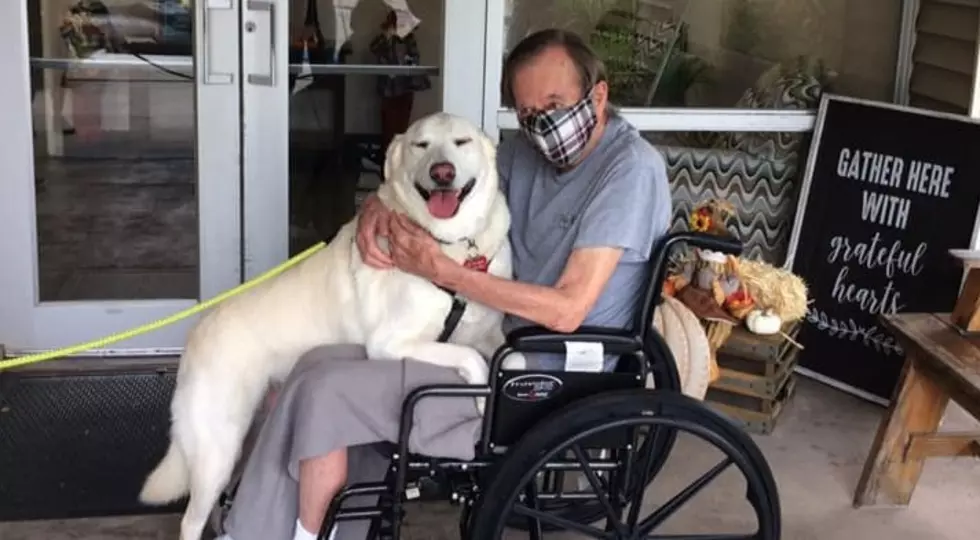 Man in Kaplan Health Care Facility Reunited with His Dog
Photo by Gwen Pitre
A man in a Kaplan nursing home received a great 80th birthday present: he was reunited with his dog, Bandit, after having been on coronavirus lockdown.
Bill Falls has been in the Kaplan Health Care facility since June when worsening lung issues (COPD and lung cancer) required his hospitalization. From there he developed double pneumonia, and then contracted COVID-19, which nearly took his life.
The Kaplan Health Care facility is helping Bill on his road to recovery, and since the recent change in coronavirus restrictions took place (Phase 2 to Phase 3) coincided with his birthday, the facility agreed to allow Bandit to visit, but under strict conditions: only for a moment, and everyone must remain socially distanced and masked.
When Bill retired to Crowley, he quickly made friends with Jesse and Gwen Pitre through their mutual love of classic automobiles. Bill owns a 1916 Dodge touring car, Jesse has mad mechanic skills and also owns classic vehicles, so a friendship soon blossomed.
Bandit came into Bill's life in 2014 when Bill adopted him from the Acadia Animal shelter. When Bill's health began to deteriorate, he asked Jesse and Gwen (in the event anything should happen to him) if they would care for Bandit, and the Pitre's quickly agreed.
In June, when Jesse and Gwen initially brought Bill to be admitted to the hospital, they took Bandit home and made him part of the family. Since that day, every conversation between Bill and the Pitres included questions or comments about Bandit and how he's getting along.
Bill has no family locally, so Bandit is very special to him. He mentioned to the Pitres that, for his 80th birthday, he wants nothing more than to be able to hug his dog. With the help of the Kaplan Health Care facility (and the governor loosening restrictions), the Pitres made it happen!
As you can see in the picture, Bandit really wanted to climb into that wheelchair with Bill! Some king coined the phrase "Dog is man's best friend", and he royally hit the nail on the head.
Gwen, Jesse, thank you guys for stepping in for Bill when he needed help with Bandit. You two are heroes!
What You Need to Prepare Your Dog for a Road Trip