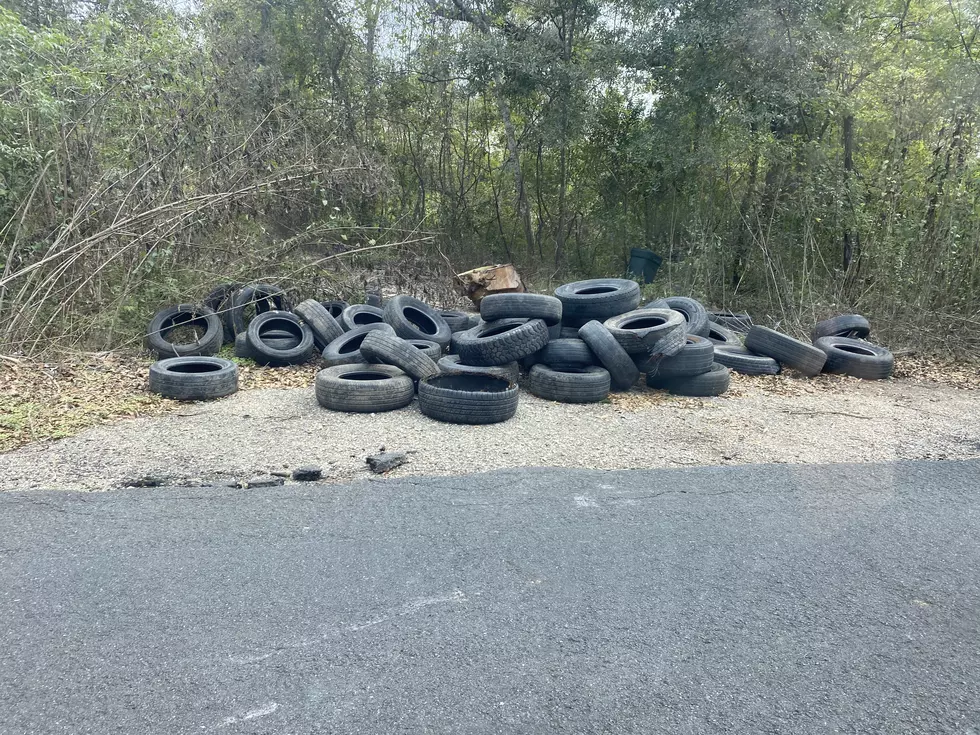 Lafayette Road Becoming Dump Site and Major Eye Sore in The City
Staff Photo
This is absolutely disgusting.
I recently detoured to get to my son's school a few days ago and it sickened me what I saw on the side of the road.
While I was on Lajaunie Road in Lafayette I first noticed a dead dog on the side of the road that did not appear to be hit by a vehicle.
Sadly, it looked as if someone dumped the carcass on the side of the road, rather than bury it.  I have elected to not show a photo here.
Then just feet away from the dead animal I saw tires scattered all over the side of the road. As I kept driving towards Teurlings Dr., I then drove up on this pile of tires that were dumped on the side of the road.
Yes, that is illegal and a major hazard to the area. In addition to that, I noticed trash just scattered everywhere. Some have elected to throw their trash from their vehicle and now trash is everywhere.
There are two schools not far from this makeshift "dump site" and a park where families frequent, Acadiana Park.
I know that we like to say that we are better than this in Lafayette, but are we? This road looks like something out of a third-world country.
I want to note here that I also saw a tent in the woods just feet away from the tires on Lajaunie Road. Sadly, someone may be living near this disgusting mess.
I share this with you because it is time we stop littering in Lafayette. Our roadways and ditches are being impacted by mindless individuals and our city is beginning to look dirty!
I have contacted the city about the matter that I stumbled upon in parts of "Upper Lafayette" and officials tell me that they are aware of the issue on this road.
As a matter of fact, a camera has been posted in this area and Lafayette Police are looking into this matter, along with the Department of Environmental Quality (DEQ).
If you have any information on who may be responsible for this you are asked to call 311.
10 Louisiana Laws You Don't Know You're Breaking