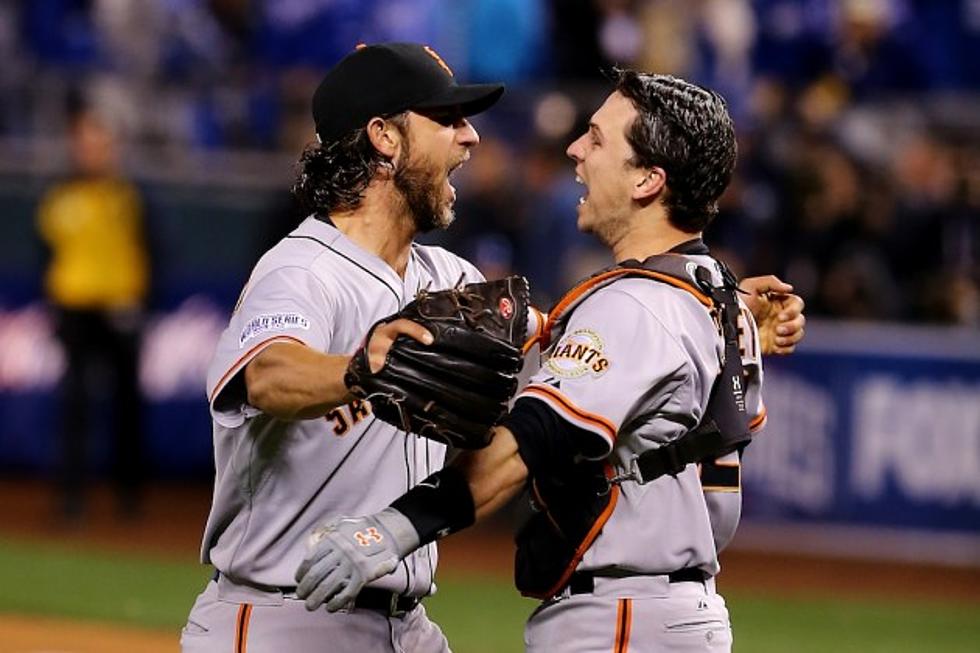 Giants Beat Royals, 3-2, For 3rd World Series Win In 5 Years
Getty Images
World Series MVP Madison Bumgarner threw five scoreless innings of relief, and Michael Morse drove in the game-winning run with a bloop single as the San Francisco Giants beat the Royals, 3-2, in Game 7 of the 2014 World Series in Kansas City on Wednesday night. The victory gave the Giants their third series title in five years.
The San Francisco outfield misplayed Alex Gordon's two-out single in the ninth to put the game-tying run at third base, but Bumgarner got Salvador Perez to foul out to Pablo Sandoval to end the game. Showcasing the form which allowed him to win Games 1 and 5 and achieve the lowest ERA in post-season history, Bumgarner allowed just two hits and struck out four Royals on the way to his first career save.
Kansas City starter — and losing pitcher — Jeremy Guthrie got into trouble in the fourth inning with the game tied, 2-2. He allowed singles to Sandoval and Hunter Pence, putting runners on first and third. After a Brandon Belt flyout, Royals' manager Ned Yost brought in flame-throwing reliever Kelvin Herrera to face Morse, who promptly placed a base hit into shallow right field to drive in Sandoval with the eventual series-winning run.
The Giants jumped out to a 2-0 lead with two runs in the top of the second inning, only to have the Royals tie the game in the bottom of the frame. SF starter Tim Hudson was pulled after an inning-and-two-thirds for Jeremy Affeldt, who got the victory.
San Francisco Giants defeat Kansas City Royals, 4-3
Game 1: San Francisco 7, Kansas City 1
Game 2: Kansas City 7, San Francisco 2
Game 3: Kansas City 3, San Francisco 2
Game 4: San Francisco 11, Kansas City 4
Game 5: San Francisco 5, Kansas City 0
Game 6: Kansas City 10, San Francisco 0
Game 7: San Francisco 3, Kansas City 2