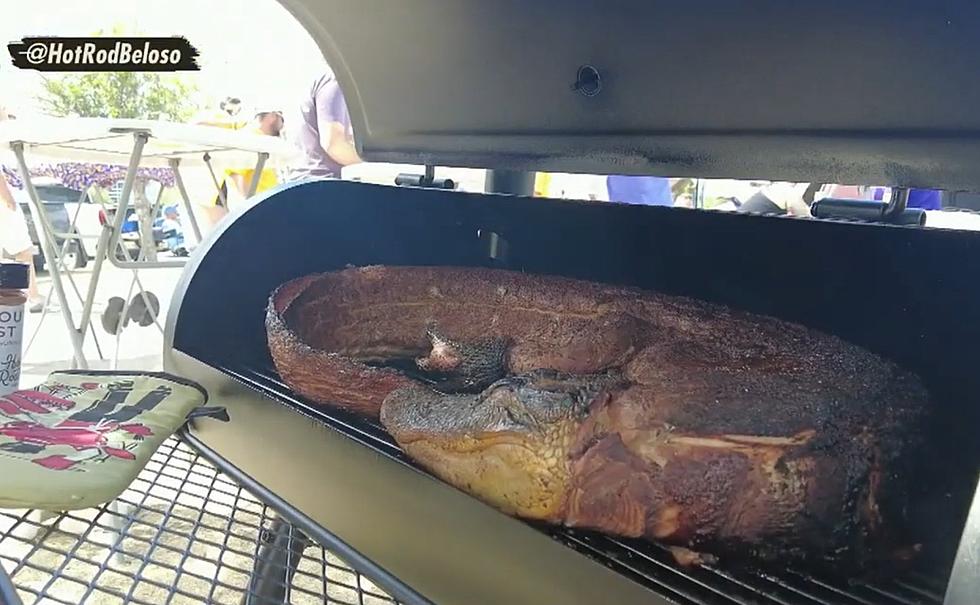 LSU Baseball Dad Serves 25lb Grilled 'Gator in Omaha
Facebook / @HotRodBeloso
It's a love without end AMEN!
Randy Travis may have had a hit country song about a daddy's love for his kids, but he said nothing about grilling alligator at a tailgate party. But that's precisely what Rodney Beloso did in Lot D ahead of game 2 of the final series. Beloso is the father of Cade Beloso who all but won game 1 for the LSU Tigers on Saturday night.
Apparently, the sight of a whole alligator on a barbecue pit is not something the national sports media covering the series is used to.
New Orleans sports reporter Sharief Ishaq got some colorful soundbites from Rodney Beloso ahead of game 2. Turns out, CajunGrocer.com came to the rescue and sent the 25-pound alligator up when the bracket was finalized and LSU would be playing the Florida Gators.
As good as the gator may have tasted, it did not bring any luck to the LSU Tigers. They lost game 2 to Florida 24-4 forcing a winner-takes-all matchup on Monday. The first pitch is set for 7 pm Eastern on ESPN.
And if you want to try grilling alligator, here is a simple recipe to start.
Louisiana Grilled Alligator
Ingredients:
1 pound alligator meat, cut into 1-inch cubes or strips
2 tablespoons olive oil
2 cloves garlic, minced
1 teaspoon Cajun seasoning
1/2 teaspoon paprika
1/2 teaspoon salt
1/4 teaspoon black pepper
Juice of 1 lemon
Wooden skewers (if making skewers)
Instructions:
Preheat your grill to medium-high heat.
In a bowl, combine olive oil, minced garlic, Cajun seasoning, paprika, salt, black pepper, and lemon juice. Mix well to create a marinade.
Add the alligator meat to the marinade, ensuring each piece is coated evenly. Allow it to marinate for at least 30 minutes, or refrigerate overnight for more flavor.
If making skewers, soak wooden skewers in water for about 30 minutes to prevent them from burning on the grill.
Thread the marinated alligator meat onto the skewers (if using) or simply place the meat directly on the grill grates.
Grill the alligator meat for about 3-4 minutes per side, or until it is cooked through and slightly charred. Avoid overcooking, as alligator meat can become tough if cooked for too long.
Once cooked, remove the skewers from the grill or transfer the grilled alligator meat to a serving platter.
Serve the grilled alligator hot as an appetizer or as part of a main course. It pairs well with a tangy dipping sauce or served alongside a fresh salad.
RANKED: These are the richest race car drivers