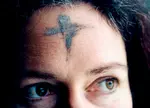 Drive – Thru Ashes On Ash Wednesday?! [OPINION]
ullstein bild via Getty Images
Two years ago, I wrote about a Lutheran church that was offering drive - thru ashes to its congregation on Ash Wednesday.
Now in 2017, we see that the practice is being taken up by another church. Fellowship United Methodist in Murfreesboro, TN. Pastor Mack Strange told Daily News Journal that he believes offering ashes this way meets a need that people have while allowing them to continue with their busy lives. The drive-thru ash service does not replace the regular Ash Wednesday service held inside the church.
"There are certain times of year when people — even those who rarely step foot inside a church — feel a spiritual longing for the blessing and rituals of the church. Christmas and Easter are such times. And for many people, Ash Wednesday is another time of latent spiritual memory."
I'm probably in the minority here, but as a Catholic, I think this would be a great idea. I don't think a drive - thru service should replace Ash Wednesday Mass, but I do think it would be a great way to reach out to Catholics who are uncomfortable going to church for whatever reasons they may have. Giving ashes in this way would be a way of meeting people where they are.
Also, Ash Wednesday is not a holy day of obligation, and the ashes are not considered a sacrament, but instead, sacramentals. If it would mean more people would receive the ashes and a blessing at the beginning of Lent, I'm all for it. I am not at all for offering sacraments like marriage in a drive - thru. You can go to Las Vegas for that.