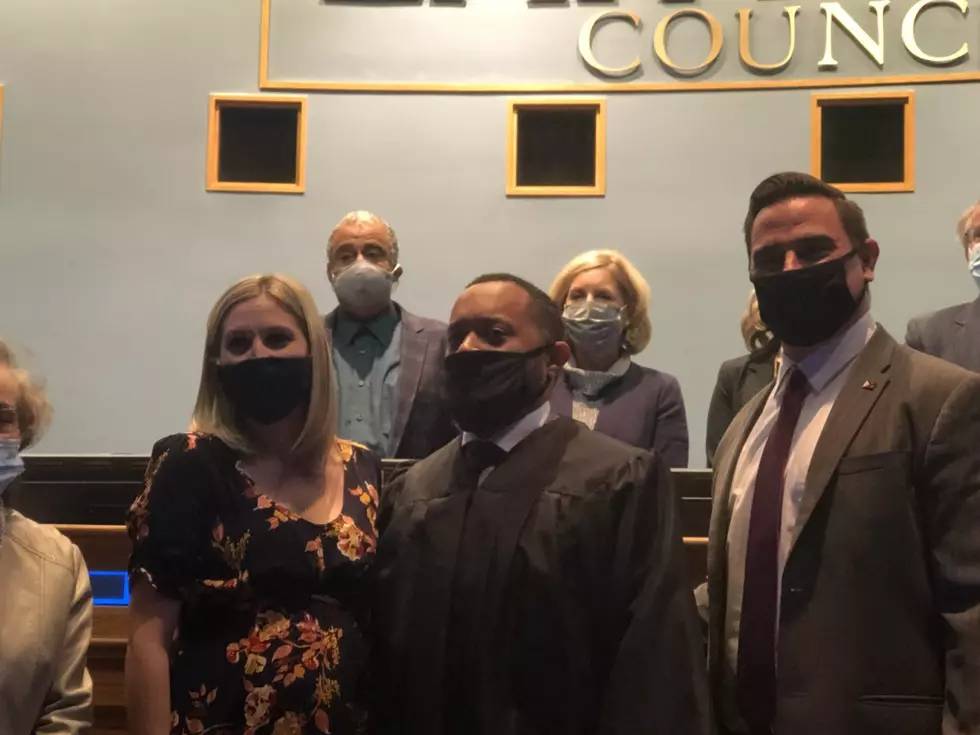 Broussard Sworn In As Lafayette Administrative Law Judge
Judge Travis Broussard (center), flanked by his fiancée Ashley Brinkhaus and Mayor-President Josh Guillory (Ian Auzenne/KPEL)
Travis Broussard's name may be familiar to some Acadiana residents. The Opelousas native is an attorney and a former candidate for elected office.
Now, the city of Lafayette will get to know him as its latest judge.
The 11-year veteran of the legal profession says he's ready to get to work.
"It means another opportunity to serve the citizens of Lafayette," Broussard said. "I'm very passionate about service. I love my community. This is just another way to demonstrate I love my community."
Broussard will handle cases involving violations of the Lafayette development code. Mayor-President Josh Guillory says this will allow LCG to resolve complaints more quickly and efficiently.
"Anything that gets our people answers quicker in a more efficient manner in a fair process—because judges are held to a higher standard," Guillory said. "It's a different standard than a department head, different standard than the council. Any time we can take away a layer of bureaucracy away and add a layer of due process, I support."
According to assistant city-parish attorney Paul Escott, the city council could add more responsibilities to Broussard's bench.
"You could have animal control issues (added)," Escott said. "You could have noise ordinance issues. You could have EQ issues like litter abatement, Health and safety issues for properties that are in disrepair or in violation, (or) all types of different types of adjudications."
Broussard will maintain his private practice and his role as Opelousas city attorney while taking on this new position.
"You tend to all of those matters," Broussard said. "You make sure you're giving 110 percent each time. It's going to be no different than what I do every day in private practice."
Broussard says he's thankful for his family and others who helped get him to this point.
"Thank you for instilling God into my life," Broussard said. "Making sure that I always give Him the glory. and always teaching me that service to others and service to the community is the most important thing that you can do."
Broussard says his sessions will take place in the evening so they can be more convenient for people who work. He says those sessions will typically begin at either 5:30 p. m. or 6 p. m.