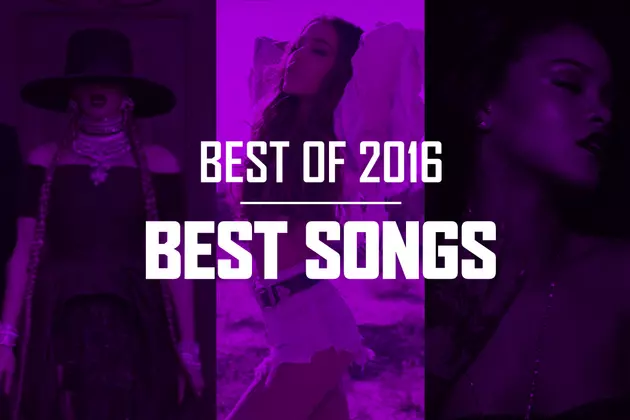 35 Best Pop Songs of 2016
YouTube
From Ariana Grande to Beyoncé to Zayn, we're taking a look back at the best pop music had to offer in 2016.
From Beyoncé's politically charged call to action to dark dance floor throbbers from Ariana Grande to joyous end-of-years bops from Bruno Mars to help us escape our troubles if for only a moment, our favorite artists helped ease us through a rather turbulent year with both escapist pop and socially-conscious sonic food for thought.
Check out our picks for the Best Songs of 2016 below.
Didn't see a song you loved on our list? Let us know in the comments!
The 1975, 'Paris'

Released on February 26

Whether that Police rip is intentional or not doesn't matter — The 1975 improve upon "Every Breath You Take" with "Paris," a mid-tempo track loaded with percolating guitars, subtle drums and overt sentimentality. Lead singer Matt Healy sings some alarming one-liners ("There was a party that she had to miss / Cause her friend kept cutting her wrist") with a lackadaisical affectation, but there's enough self-awareness there to manage charm despite any obvious apathy. A twinkling, wistful wisp of a track, "Paris" makes a solid case for The 1975 in just under five minutes. — Ali Szubiak

Alicia Keys, 'Pawn It All'

Released on November 4

For the first time since 2009's "Empire State of Mind," Alicia Keys has successfully fleshed out an earnest image of her native (and beloved) New York City, from Harlem to the Brooklyn Bridge. Here, her sixth studio album, is her sincerest to date, and "Pawn It All" is as good as something from Songs in A Minor. The track tethers old-school, funk-fueled melodies with the modernity of hip-hop cadence to create a timeless foot-tapper, and a tone that's equal parts Brooklyn street corner and Upper East Side bus route. "Thinking how we gonna make it now/ How we gonna feed the babies now / We gonna make it through it / God gonna see to it / Just get up and do it now," Keys pleads with a dogged honesty that makes Taylor Swift's New York look like a leaky snow globe. — Matthew Donnelly

Anonhi, 'Drone Bomb Me'

Released on March 9

Singer-songwriter Anohni — formerly known as Antony Hegarty — never runs out of new ways to devastate me musically. EDM producers Hudson Mohawke and Oneohtrix Point Never co-produced the glittering-yet-searing track, which sounds like a love song ("I want to be the apple of your eye") until you listen closer: The lyrics are from the perspective of a body affected by war, the actual bombed bodies it's so easy not to think about, and they invite the listener to consider the issue of complicity. "Explode my crystal guts / Lay my purple on the grass," Anohni begs over waves of unfurling synths. "Choose me." It's a heartbreaking message in a powerful package. – Samantha Vincenty

Ariana Grande, 'Into You'

Released on May 6

Was there a better dark dance floor stormer released in 2016 than "Into You"? No, in fact, there was not. "Into You" never got its due justice — being rudely side-stepped mid-campaign by the vastly less incredible "Side To Side" with Nicki Minaj — but it deserves all the accolades: the slick, pulsating uptempo Max Martin-produced offering from Dangerous Woman still hits just as hard as the day it premiered. From those powerhouse pint-sized pop princess chops to just the right amount of ridiculous, Mimi-lite lyricism ("A little less conversation and a little more touch my body'), "Into You" is simply huge. (Minus the boring video.) — Bradley Stern

Bebe Rexha, 'No Broken Hearts (feat. Nicki Minaj)'

Released on March 16

Top 40 radio's songwriter/featured artist du-jour, Bebe Rexha drinks and dances the pain away on "No Broken Hearts." A perfect turn-up jam for 2016, the track builds upon a tropical trap-light beat during the verses, before it comes crashing back down on an anthemic chorus about leaving one's heartache at the door. This is pure guilty pleasure pop — minus the guilt. - Erica Russell

Beyonce, 'Hold Up'

Released on April 23

It's tough, impossible even, to pinpoint a standout track on Beyonce's tour-de-force Lemonade. But "Hold Up" deserves multiple repeat listens, especially for anyone who's ever been wronged by a former flame. Borrowing a vocal melody from the Yeah Yeah Yeah's "Maps" but taking it to a far more vengeful (and calypso-inspired) place, "Hold Up" exemplifies fury in its basest, most terrifying form. Here, Beyonce embodies the calm before the storm with a vocal delivery that's even-tempered and nonchalant, but somehow hums with an underlying, cutting lethality. "What's worse: Looking jealous or crazy?" a baseball-bat-wielding Beyonce asks, as though the answer isn't obvious, "I'd rather be crazy." — Ali Szubiak

Birdy, 'Shadow'

Released on March 25

While the singer-songwriter's strengths lie in observing love-from-afar, the Beautiful Lies track closes the gap, and finds Birdy intently tethered to the subject of her infatuation. High, low – she'll trail either, and "Shadow"'s sound follows suit, blindingly vacillating between Birdy's deep, earthy tones and ozone-puncturing falsetto leaps. The word "haunting" has become corny and trite where pop critique is concerned, but there's sincerely no other way to describe this one. — Matthew Donnelly

Ariana Grande, 'Greedy'

Released on May 13

Ariana Grande's likely sick of the Mariah Carey comparisons at this point in her career, but if ever a Dangerous Woman track were to unleash a wealth of new ones, let it be the horn-heavy "Greedy." Grande goes full falsetto here, hitting notes so high they barrel into another plane of existence. But besides all her vocal acrobatics (and make no mistake — many and often are they present), the uptempo dance track is just straight-up, funkified fun. — Ali Szubiak

BLACKPINK, 'Boombayah'

Released on August 8

One of the most addictive tracks of the year, rookie K-pop girl group BLACKPINK's debut is nothing short of explosive. A firecracker in song form, "Boombayah" is a big, speaker-bursting EDM banger with hip-hop fair—a highly combustible sonic concoction that draws to mind one of the biggest hits of another (former) YG Entertainment foursome. (That would be 2NE1's "I Am the Best," of course.) It's catchy, sexy neon-bathed pop that goes off hard. Boom, indeed. — Erica Russell

Britney Spears, 'Do You Wanna Come Over?'

Released on August 18

Equal parts In the Zone-era experimental sex pop and Femme Fatale-era dance jam, Britney Spears' third and final promotional single off 2016's Glory is an undeniable banger. Featuring a wobbling bassline, a hard-slapping flamenco-inspired guitar riff and a sensual, shimmery breakdown, "Do You Wanna Come Over?" showcases the Princess of Pop at her most flirty and fun. As Spears offers her slick booty call invitation (or invitation for "whatever"— she'll "do it!") over the track's shouty chorus of background singers and flurry of synths, it's simply impossible to decline. After all: "Nobody should be alone if they don't have to be." — Erica Russell

Charli XCX, 'Vroom Vroom'

Released on February 26

A fast and furious departure from the punky pop of the singer-songwriter's previous album, Sucker, "Vroom Vroom" ushered in a new era for Charli XCX, one marked by the unmistakable high-gloss sheen of early 2000s bubblegum. Featuring fizz-n'-pop production courtesy of London's PC Music wiz, Sophie, the single is a sleek and shiny electro-pop banger that sounds both nostalgic and futuristic all at once. - Erica Russell

Broods, 'Free'

Released April 1

A year in pop earmarked by sullen, sad-boy confessions and blinkered musings finds a necessary hit of the completely uninhibited from the New Zealand-born brother-and-sister duo. With a chorus as fantastically windswept as Ellie Goulding's "Anything Could Happen," "Free" is, at once, incendiary and soothing, and rockets listeners to the moon before gently shepherding them back down to earth at a feather's speed. The track's eerie, Stranger Things-adjacent electro-buzz paired against Georgia Nott's crystalline-but-icy tone is, as the title would suggest, completely liberating. — Matthew Donnelly

Bruno Mars, 'Chunky'

Released on November 18

2016 could use a party anthem or 12, and no one on Top 40 rotation does fun better than the indelible Bruno Mars. Outfitted in his preferred, funkified retro-lean, "Chunky" is a dance-pop masterpiece, complete with '80s synths and the kind of cheesy lyrics ("Shout out to the girls that pay their rent on time") that have become part of Mars' feel-good signature. — Ali Szubiak

Carlos Vives and Shakira, 'La Bicicleta'

Released May 27

There's been little to celebrate as of late, and a steadfastly somber Top 40 has been largely reflective of our lived reality. But Carlos Vives and Shakira mercifully teamed up for the vallenato-inspired "La Bicicleta" -- an uplifting, jubilant celebration of nostalgia that incorporates elements of cumbia, reggaeton and pop with unprecedented harmony. Neither artist needs the other for a career boost, but further collaborations between the two may very well help us all get through the next four years. — Ali Szubiak

Chloe x Halle, 'Red Lights'

Released on April 29

The teenage Bailey sisters cut their teeth on child acting roles and YouTube performances, but getting signed to Beyonce's Parkwood Entertainment placed them squarely in the limelight this year. April's genre-defying Sugar Symphony EP effectively shuts down any "will they live up the hype?" think pieces, and the twinkling "Red Lights" perfectly encapsulates their magic, their visionary teenage girlhood. "And all I want, is to be home /Hit the gas, just be alone / Turn off the world /Dance with myself, like ballerinas," the two sing in unison over a stuttering drumbeat. The song's airy like the baby's breath that crowns their heads on the EP cover art, but it's as hardy as it is beautiful. – Samantha Vincenty

Clean Bandit, 'Tears (feat. Louisa Johnson)'

Released on May 27

Twice now, Clean Bandit have proven the following formula is foolproof: Recruit a young woman with a booming voice, multiply her output with feverish string arrangements and yield product that can't be negated or disproved. Two years after the massive success of "Rather Be," a collaboration with Jess Glynne, the English electropop group takes X Factor's most promising winner, Louisa Johnson, and builds her a proper pop-launch pad from which she's free to blow. With tempo befitting of a disco dance hall and a massive bridge that'll satisfy any millennial pop fan, "Tears" does the potentially formulaic justice, and — very early into her career — Johnson has made herself a contender. — Matthew Donnelly

Fifth Harmony, 'Work From Home (feat. Ty Dolla $ign)'

Released on February 26

Fifth Harmony know a thing or two about putting in work, work, work. Four years after their 'X Factor USA' debut, the girls finally notched their first Top 10 hit, filling the girl group void on the charts for the first time since the Pussycat Dolls many, many moons ago. Every bit of their 7/27 lead single is satisfyingly cheeky — from the 'work, work, work' earworm of a chorus to Camila's oversinging during the live performances to Ally Brooke hammering away at a wheel on the construction-themed video. Never before has an ode to remote employment felt so thoroughly satisfying. - Bradley Stern

Britney Spears, 'Slumber Party (feat. Tinashe)'

Released on November 16

The idea of attending a slumber party with Britney Spears is overwhelming enough as is, but having ultimate fangirl Tinashe along for the (joy)ride is the bottle of perfume lotion on top. After the emotionally exhausting debacle that was #OriginalMakeMeVideo-gate, "Slumber Party" was the essential breezy follow-up from Glory that put the party (quite literally) back into the campaign. From those Janet-y coos ("We ain't gonna sleep toni-i-ight") to the reggae-tinged chorus to a gorgeous, return-to-form music video delivering MILF-tastic sexuality and just the right amount of BFF giddiness between to the two co-stars (Tinashe is forever dead, still), Brit Brit and Tinashe threw a rager for the ages. Just don't go spilling your milk...you never know what B will do with that tongue. — Bradley Stern

Kimbra, 'Sweet Relief'

Released on September 30

On 2014's underrated The Golden Echo, she declared her love for "90s Music," but on "Sweet Relief," Kimbra finds herself grooving to a decidedly more '80s beat. Like the lovechild of Janet Jackson, Prince and Oingo Boingo, "Sweet Relief" is a warped, weird science-y fusion of '80s R&B, dance and new wave sounds. A thick, gooey bass-line thwomps while sticky-sweet synths ooze across the track, driving the lush, mid-tempo jam forward with funky conviction as Kimbra expresses her desire for a little "skin to skin." It's a truly bizarre, sensual throwback affair, but it feels so good when she gives me that sonic sweet relief. — Erica Russell

Kacey Musgraves, 'Christmas Makes Me Cry'

Released on October 28

A methodical, melancholic reflection in music form, "Christmas Makes Me Cry" is appropriate for year-round listens, despite its seasonal subject matter. Musgraves explores themes of heartbreak, loneliness and the inevitability of death without ever getting too heavy-handed in her approach. Her wistful, dispirited vocals pair expertly with plucky, mid-tempo guitars to explore all that welling emotion. By the time she gets to the chorus ("And I know that they say, 'Have a happy holiday' / And every year, I sincerely try / Oh, but Christmas, it always makes me cry") you wonder how anyone could ever feel like celebrating. — Ali Szubiak

Kanye West, 'Ultralight Beam (feat. Kelly Price, Chance the Rapper, The-Dream & Kirk Franklin)'

Released on February 14

Kanye's often-cringeworthy Twitter and arguably misogynistic treatment of a waxen Taylor Swift proxy in the "Famous" video were hard to defend this year (though his recent hospitalization suggests an explanation much more complicated than "he's a jerk!"). But dammit if he doesn't still make music I love. "Ultralight Beam" is exactly what the title promises, delivering a gospel-imbued shot of positivity at the top of the complex and mostly-great The Life of Pablo. Kanye wisely lets his guests outshine him on the song he produced with Mike Dean, Chance the Rapper and Swizz Beatz; Kelly Price's stunning vocals provide "Ultralight"'s emotional backbone, and you can hear the smile on Chance the Rapper's face as he raps "My daughter look just like Sia/ You can't see her" before he brings his verse to its crescendo. And the sound of the choir that closes the track after gospel superstar Kirk Franklin's mini-sermon on redemption and hope is enough to justify the nine (9) producer credits. - Samantha Vincenty

Lucius, 'Dusty Trails'

Released on March 11

Jess Wolfe and Holly Laessig — who routinely style themselves as each other's mirror image — insist they aren't sisters, but their watertight harmonies suggest they could be identical twins who were separated at birth. The Berklee-trained vocalists spearhead indie-pop group Lucius' breathtaking Good Grief track and belt in unison like series of choreographed cannon fire, issuing shots militant and deadly enough to violate certain armistices. Production starts classically and calmly with unencumbered guitar plucks before insidious, relentless wailing takes over. The group's explained their sophomore album speaks to the tacit challenges of marriage, but here, disharmony is nothing short of euphonious. — Matthew Donnelly

Miike Snow, 'I Feel The Weight'

Released on March 4

The Swedish indie group's third LP, iii, is otherwise fueled by flashy electro-pop, but its lowly, atmospheric ballad strikes most pronouncedly. At once devastating and light, "I Feel the Weight" gives emotional ruin a beautiful allure – here, being lovesick is the perfect picture of health. Featuring eerie Vocoder effects and bubble-pop percussion, Miike Snow's take on loss's acceptance stage is a journey through winding doldrums, where the view is a bit obscured but no less worth your lingering stare. — Matthew Donnelly

Ra Ra Riot, 'Bad Times'

Released on February 19

A decade after playing basements in run-down college crash pads, the Syracuse indie group have successfully applied sound to the concept of a silver lining. "Bad Times" is Need Your Light's bit of unlikely sunshine, and chronicles a series of tough breaks that Wes Miles somehow shrugs off. The track is polished garage band bliss, and winds up through swelling pre-choruses before delivering synth-soaked pop-music fastballs. — Matthew Donnelly

Rihanna, 'Kiss It Better'

Released on March 30

Our fearless Navy Commander has been raunchier and less subtle in the past, but Anti's bedroom banger "Kiss It Better" is arguably Rihanna's most sexual song of all time. The aggression in her voice as she barks out commands ("Take it on back, boy!"), winding and grinding up against that sexy electric guitar whine...by the end, it's hard not to feel like you've thoroughly phucked by RiRi. — Bradley Stern

Royksopp, 'Never Ever (feat. Susanne Sundfor)'

Released on September 9

The void of stellar Scandi-pop is deep and dark in these trying times. Hell, even Robyn would rather churn out remixes of classics than supply us with sets of new jams. Mercifully, Norwegian superheroes Röyksopp returned in 2016 with an unexpectedly exuberant dance floor electro-banger. bolstered by the capable chops of Susanne Sundfor. From that earnest chorus ("Never ever gonna let you go now!") to those glitchy beats, "Never Ever" is like a glitchy take on Carly Rae Jepsen's breathless electro-pop love affairs. Watch out for that stuttering breakdown of a bridge — it's truly the stuff of hair-flipping greatness. — Bradley Stern

Sabrina Carpenter, 'On Purpose'

Released on July 29

A hazy EDM-lite ballad featuring swirling synths and a blissful tropical breakdown, Disney Channel star Sabrina Carpenter delivers a surprisingly smokey, edgy pop ode to "accidentally falling in love" on the titular track off her excellent 2016 album, On Purpose. Though cool and atmospheric, Carpenter injects warmth and heart into the single thanks to an emotive vocal delivery—and an undeniable hook. — Erica Russell

Selena Gomez, 'Hands To Myself'

Released on January 26

Yes, the song technically came out on last year's Revival, but it was in 2016 that Selegend formally blessed us with her featherlight, Prince-inspired metaphorical gin and juice, which went on to become a Top 10 hit — and her stalker fantasy of a music video to boot, reminding us all to install a reliable security system. There's just no way I could leave this one off. (I mean, I could, but why would I want to?) — Bradley Stern

Taeyeon, 'Why'

Released on June 28

From start to finish, "Why" leaves no question as to the solo prowess of Girls' Generation leader Taeyeon, who simply sparkles on the lead single off her 2016 mini album, Why. The tropical R&B track is an instantly infectious slice of shimmery pop that continuously builds and crashes amidst a rush of atmospheric synths and melodic vocals. And it's unquestionably impressive. — Erica Russell

Beyonce, 'Formation'

Released on February 6

What began as a tiny seed — a freestyle from Rae Sremmurd's Swae Lee during a drive to Coachella '14 with producer Mike Will Made It, "O.K., ladies, now let's get in formation" — eventually grew, transmogrified really, into the rallying cry in an anthem celebrating womanhood, southern black American culture (New Orleans rapper Big Freedia puts in a brief yet significant cameo), and Beyonce's own continued ability to raise the bar. If "World Wide Woman" is the alpha, "Formation" is the omega, and to hear it and love it is to feel a part of it. I slay, Bey slay, we slay all day. – Samantha Vincenty

Angel Olsen, 'Heart Shaped Face'

Released on September 2

Angel Olsen's ever-brilliant work dipped into pop territory with 2016's My Woman, but "Heart Shaped Face" is more Dusty Springfield meets heavy-lidded late '80s Julee Cruise. While it presents as a love song, it's low-key lyrically eviscerating, reading a lover for their perceived betrayals: "Was it me you were thinking of, all the time when you thought of me? Or was it your mother? Or was it your shelter? Or was it another with a heart-shaped face?" And then, with Olsen's singular knack for expressing sentiments most find too arcane to articulate: "Was it a feeling you thought I could dig up or erase?" – Samantha Vincenty

Terror Jr. '3 Strikes'

Released on March 31

Contemporary pop's most mysterious trio, Terror Jr., received a public endorsement from reality TV's leading lady when their debut single "3 Strikes" set the soundtrack to Kylie Jenner's "Glosses," a bizarre lip gloss ad that doubled as a mini-movie. Somehow, the song surpassed the inherent hype surrounding Ms. Jenner — it stands up just fine on its own, thankyouverymuch. Modulated, near-incomprehensible vocals are layered over smooth, R&B-inflected synth-pop for a mid-tempo jam perfect for a chill summer afternoon — or a speedy getaway. — Ali Szubiak

The Weeknd, 'Stargirl Interlude (feat. Lana Del Rey)'

Released on November 25

It figures that even if she herself didn't release a new record in 2016, Lana Del Rey still wound up crafting one of the year's best songs — or teases, rather. Clocking in at an all-too-brief 1:21 minutes,  the Queen of Coney Island's latest cameo on her BFF Abel's Starboy record is a crucial morsel to cling to while we wait for a Honeymoon follow-up. While it's just an interlude, the blunt imagery — LDR getting bent over on a kitchen counter and screaming — leaves more of a lasting impression than plenty of other songs released this year. In Lana, we trust. (The rest of the album's pretty good, too.) — Bradley Stern

Lizzo, 'Good As Hell'

Released on April 22

Pay no attention to the dismal state of pop as represented by 2016 Top 40 radio: The rise of singer-rapper Lizzo was real, and while her Coconut Oil EP isn't nearly as big as it should be, Barbershop: The Next Cut lifted "Good As Hell" into the mainstream on its soundtrack. Lizzo's big voice and jubilant spirit make the Ricky Reed-produced track an instant classic talk-to-the-hand jam, and listening makes you feel like you're the star of your own gloriously defiant third-act movie montage. – Samantha Vincenty

Andy Shauf, 'The Magician'

Released on March 22

On 2016's The Party, singer-songwriter Andy Shauf straddles a line between folk and '70s Todd Rundgren-style pop, crafting songs about depressive white men that, despite falling outside my typical taste, are so gorgeous I grew obsessed. Album opener "The Magician" is a lushly arranged, multi-layered beauty about a person struggling to maintain the illusion of control over a magic trick, and control over life generally: "Just a shaking hand without a concrete plan." As Shauf sings while his piano and string section ultimately converge with a glam-rock-style guitar riff, the result is both a raw admission of humanity and a masterpiece. – Samantha Vincenty