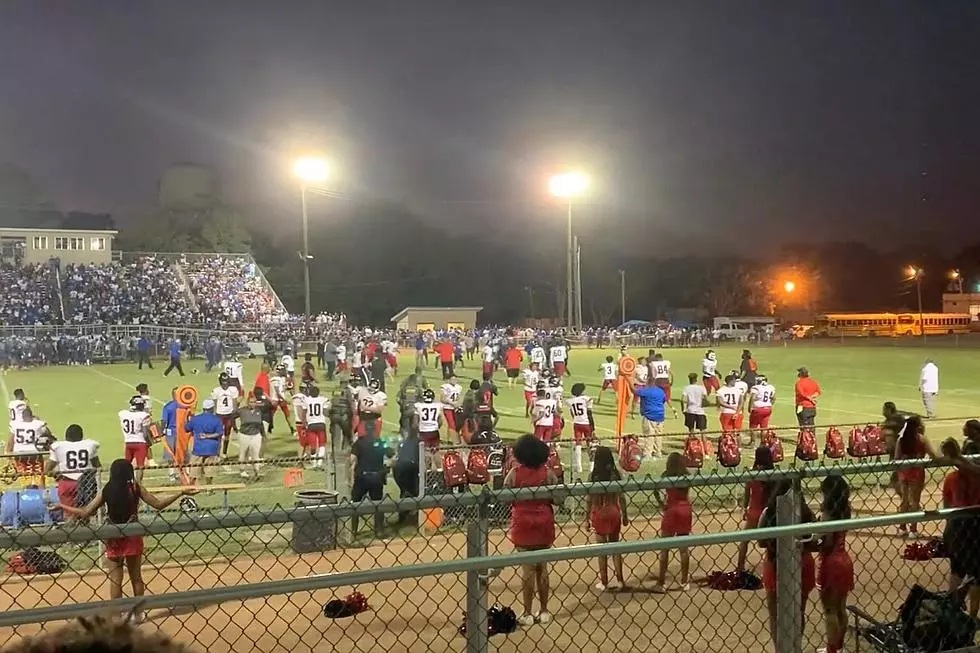 Northside-McKinley Game Ruled a Double Forfeit Following Brawl That Ended Contest
Denise Rena Jolivette, Facebook
This past Friday night's high school football game between Northside and McKinley had to be halted in the second quarter due to a brawl between the two teams.
It now appears that the Louisiana High School Association has ruled the game a double forfeit.
LHSAA assistant executive director Lee Sanders acknowledged the double-forfeit in a text exchange with the Baton Rouge Advocate: "We continue to communicate with both schools about the incident."
The game, held in Baton Rouge on McKinley's campus, was halted with 11:15 remaining in the second quarter by game officials.
Northside High head coach John Simmons said the fight broke out after the Vikings tackled a McKinley player near the home team's sideline.
Law enforcement, along with coaches from both teams and administrators worked to restore order to the situation, but it was determined by game officials that the game could not be completed after what had transpired.
WAFB sports reporter Jacques Doucet reported on Friday night that all players were basically disqualified, meaning they wouldn't be able to play next week. That has not been ruled upon by the LHSAA as of this report though.
We'll provide updates to this story as they become available.
Pro Athletes From the Acadiana Area
Louisiana has produced some of the best pro athletes in the world, especially in Acadiana.