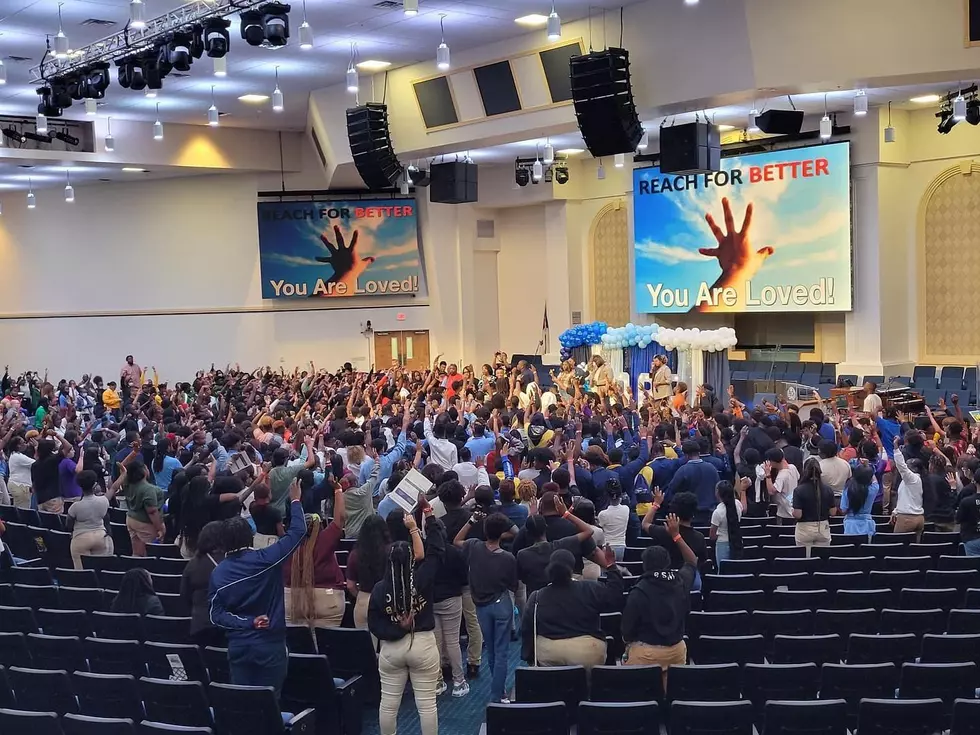 Louisiana High School Students Say They Were Tricked into Attending Religious Event Framed as College Career Field Trip
EBR Schools, Facebook
East Baton Rouge high school students and parents are outraged after 2100 students were bused to a college career fair field trip that turned out to be a controversial religious event.
Dozens of parents and students complained that a "Day of Hope" event was initially billed as a college career fair for high school seniors–but upon their arrival, it was quickly realized that they were misled into a religious event where numerous questionable activities unfolded throughout the day.
Separation of Church and State "just the tip of the iceberg"
In the wake of the large amount of backlash surrounding the controversial "Day of Hope" event, lawyers are now looking into possible civil rights violations, federal laws that were possibly broken, as well as other "glaring violations" when it comes to the separation of church and state.
There are also question marks and concerns over state and federal funds that were provided for activities prohibited by law.
Students felt tricked, then traumatized
While the "Day of Hope" event was sold to students as a college fair with fun and games, multiple students claimed that they were separated by birth gender before being blindsided with lectures on abstinence, suicide, and rape among other controversial topics.
Numerous attendees complained about the event causing emotional distress after they were subjected to "graphic" stories that left some students in tears.
Boys were encouraged to perform macho acts while girls were advised to forgive men who rape and assault them. Speakers subjected students to graphic tales and reenactment of suicide, which left some students with past loss due to suicide disturbed and upset with no emotional support to help them. Students were found in the bathroom weeping.
A report from the Daily Beast went into explicit detail on the types of activities, and speeches that students were subjected to based on their firsthand experience.
Bonnie Kersch is the mother of a student who attended the "Day of Hope" event under false pretenses. In addition to her outrage over the events that reportedly unfolded that day, she told The Advocate about her dissatisfaction with the way the school system has handled the backlash as well as legitimate concerns from parents and students.
Kersch also attached the original permission slip to a Facebook post along with numerous other details surrounding the events that unfolded at the "Day of Hope" field trip that her daughter attended.
Pizza in exchange for Social Security Number?
In addition to the allegations surrounding the questionable programming that was presented to students, there were also reports of bribery as students claimed they weren't allowed to eat until they registered to vote. Many of those who were in attendance claimed that they were asked for their social security number in exchange for pizza.
One of the more alarming details involved students who didn't provide their race or gender allegedly having water poured on them.
East Baton Rouge's back and forth response to the backlash
After being accused of tricking hundreds of high school students, the East Baton Rouge school system has been a bit back and forth in its response. According to a WBRZ report, East Baton Rouge School Superintendent Dr. Sito Narcisse initially denied involvement even though he was on the flyer.
Eventually, the school system doubled back, standing behind the "Day of Hope" event that they reportedly described as "amazing."
An investigation by the Secretary of State is said to be ongoing after the Registrar of Voters confirmed that someone picked up blank forms before the event but no one has turned them in at the time that this story was published.
While questions remain surrounding the nearly $10,000 spent on the "Day of Hope" event, the Louisiana head of state education called the backlash "a local issue."
See more details in the full reports from WBRZ and WAFB.
LOOK: What major laws were passed the year you were born?
Data for this list was acquired from trusted online sources and news outlets. Read on to discover what major law was passed the year you were born and learn its name, the vote count (where relevant), and its impact and significance.