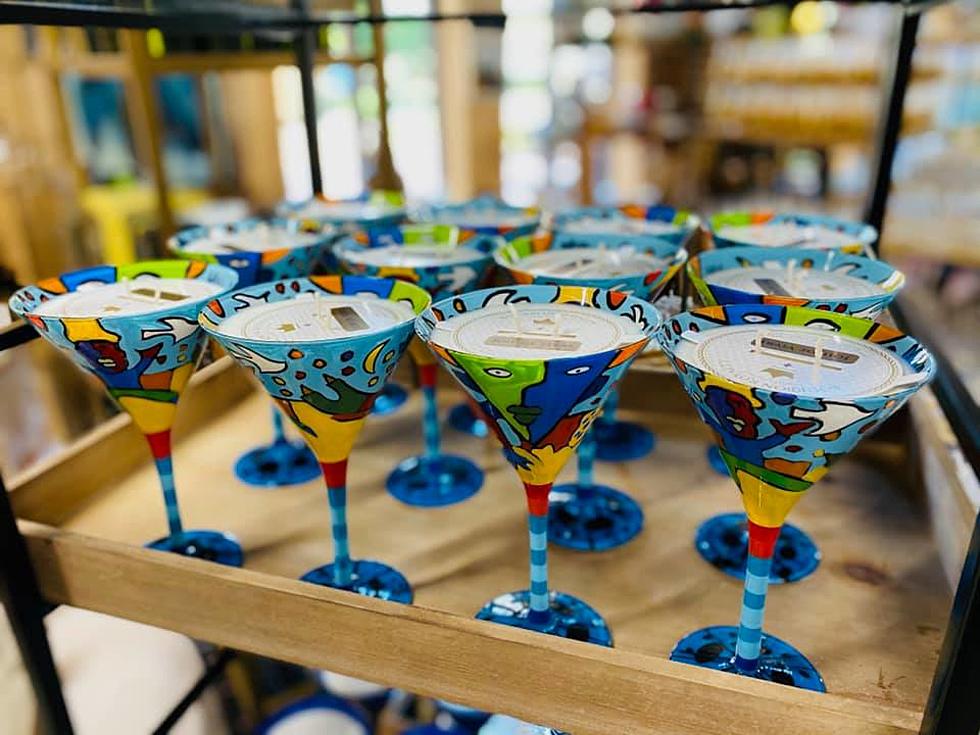 Get Your Healing House Martini Glass Candles Before They're Gone
Courtesy of The Bougie Bar and Caroline and Co.
Some local businesses teamed up to help a great cause. The Bougie Bar in downtown Lafayette is a place to have fun with your friends and family, sip some wine, and enjoy the perfect candle making experience. They've partnered with Caroline & Co, Lafayette's premier gift shop, to help The Healing House by selling the ever-so-popular hand painted martini glasses as candles.
What a brilliant idea since the most popular gift item for any occasion is a good candle AND everyone in Lafayette who supports Healing House knows that the martini glasses which are hand-painted by local artists are gorgeous.
The Healing House; Hope for Grieving Children relies on their annual Martinis event as their largest fundraiser. Unfortunately, like many events in 2020, the in-person event had to be cancelled due to the coronavirus pandemic. Although they did have a virtual event, it just isn't the same.  'Martinis: Lafayette's Best Martini' is a way to showcase local restaurants and their martini creations. The community can try them all by attending the Tini-Tour and your martini purchase is a donation to The Healing House. The event ends with the Martinis Gala where Lafayette's Best Martini is announced.
Rusty and Jamie Phillips, owners of Bourbon Royalty Candle Company and also owners of The Bougie Bar, have always felt strongly about supporting and giving back to the local communities that have supported their growing business.  After the past several years of growth and expansion, they are finally in the position to start offering support.  The timing was perfect when Brad Gros, Program Manager at Healing House, reached out to them and asked if they could do anything with the extra martini glasses from past years.  Rusty said he immediately started thinking about partnering with another local business to get them out to the community.  Caroline and Co. was the perfect fit.  Charlotte Cryer, owner of Caroline and Co. said yes without any hesitation.  Together they are raising $45 per candle by donating 100% of the proceeds to Healing House.
There are four different designs of martini glasses. They are filled with candles that are fragranced with "Joie De Vivre" which translates into The Joy of Life.
 It is our hope that this fundraiser helps to spread Joie De Vivre to the community and most importantly to Healing House.  It is our privilege participate.  As the saying goes, make lemons out of lemonade.  In this instance, we are making custom candles out of martini glasses.  Hopefully we can do it all over again next year.   – Rusty Phillips
Rusty is not only in the candle making business, he is also a Licensed Clinical Social Worker with over 20 years of experience working in mental health and addiction.  He is passionate about raising awareness and supporting non-profit agencies.  The Healing House serves children and individuals that are grieving by offering hope and support.  Rusty said he believes it is vital to address grief so that children and families find happiness and hope for a life without the negative impact of unresolved grief.
I lost my best friend to cancer two years ago.  I saw first hand how difficult the loss and grief was on her children, family and friends.  How wonderful that Healing House offers hope and grief counseling for children dealing with this unimaginable loss. - Charlotte Cryer, owner of Caroline & Co.
Thanks to Bourbon Royalty for donating the cost of goods and and additional $15 per candle, and to Caroline and Co. for donating 100% of the candle purchase of $29.99.
There is a limited amount so hurry to Caroline & Co. to purchase yours today. They make the perfect gift for any occasion and Christmas is right around the corner. This gift will make your space smell heavenly, you'll have a beautiful piece of art, AND most importantly, you will be helping grieving children in Acadiana.
Coping with Grief During the Coronavirus Pandemic