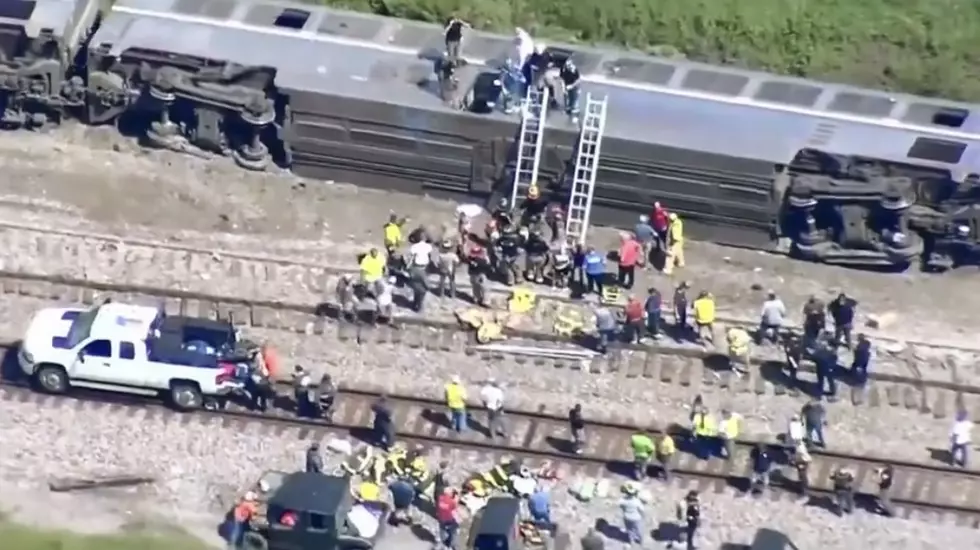 Three Dead after Amtrak Train Carrying Hundreds of Passengers Collides with Dump Truck and Derails
Facebook via KAKE News
Reports say that a passenger train carrying approximately 260 people has derailed in Missouri after it struck a dump truck at a public crossing. While details are developing, initial reports say that there are injuries as a result of the incident.
UPDATE: Reports are now saying that three fatalities have been confirmed as a result of the incident.
See the report from @ABC17News below.
According to the report, two of the people who died were passengers on the train. The third death came from the dump truck in which the train collided with.
Original story...
The official Amtrak website shared that the train was traveling from Chicago to Los Angeles when it derailed in near Mendon, Missouri. The statement says that approxiamately 243 passengers and 12 crew members were on the train at the time of the incident. There are initial reports of injuries.
A local report from @ABC17News in Missouri says that while authorities have confirmed that there are fatalities, no official number of how many lives have been lost is available as of now.
The statement also says that emergency crews are on the scene assisting passengers and crew members.
@AmtrakAlerts posted the below message to Twitter.
One of the passengers from the train has shared a thread to Twitter which shows his experiences since the train derailment. See those posts from @cloudmarooned on Twitter below.
The passenger's posts show that those involved in the derailment have been transported to a nearby hospital. He also shares a video from inside of the train just after the incident.
See live coverage from the scene shared by KAKE News on Facebook below.
See the full report via @fox5dc on Twitter below.
10 Smallest Towns in Louisiana