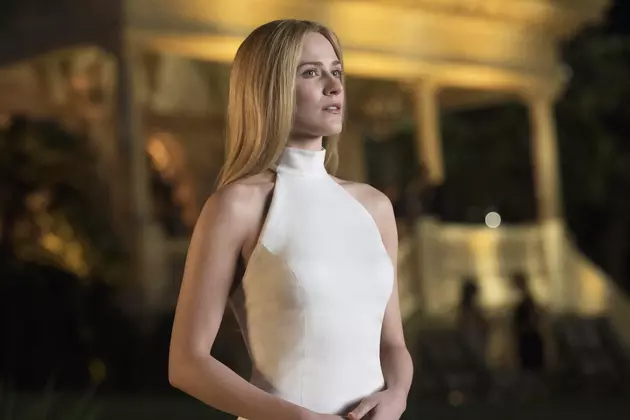 We Dare You to Decrypt These 'Westworld' Season 2 Episode Descriptions
HBO
Now that Westworld Season 2 is officially under review, HBO is bringing the first episode descriptions online. Go on, try to make sense of such cryptic gems as "Is this now?" and "ショーグン・ワールドへようこそ," we dare you.
Having released the first five episodes to critics, HBO followed suit with episode descriptions for April 22 premiere "Journey Into Night," as well as the four weeks that follow – exactly one half the season. Like Game of Thrones and Mad Men before it, there aren't many exact details to gleam. We do at least know that the season's fifth hour will finally take us inside "Shogun World," and introduce us to the mysterious "Akane" played by Pacific Rim star Rinko Kikuchi:
Episode #11 (season 2, episode 1): "Journey into Night"

The puppet show is over, and we are coming for you and the rest of your kind. Welcome back to Westworld.

Written by Lisa Joy & Roberto Patino; directed by Richard J. Lewis.

Episode #12 (season 2, episode 2): "Reunion"

Why don't we start at the beginning?

Written by Carly Wray & Jonathan Nolan; directed by Vincenzo Natali.

Episode #13 (season 2, episode 3): "Virtù e Fortuna"

There is beauty in who we are. Shouldn't we, too, try to survive?

Written by Roberto Patino & Ron Fitzgerald; directed by Richard J. Lewis.

Episode #14 (season 2, episode 4): "The Riddle of the Sphinx"

Is this now? If you're looking forward, you're looking in the wrong direction.

Written by Gina Atwater & Jonathan Nolan; directed by Lisa Joy.

Episode #15 (season 2, episode 5): "Akane No Mai"

ショーグン・ワールドへようこそ (Welcome to Shogun World)

Written by Dan Dietz; directed by Craig Zobel.
For what it's worth, the press release also confirms Ingrid Bolsø Berdal's return as Armistice, Clifton Collins Jr. as Lawrence, Shannon Woodward as Elsie (!), and Leonardo Nam and Ptolemy Slocum as Felix and Sylvester. Newly-identified cast members include Peter Mullan as James Delos, Zahn McClarnon as Akecheta, Batman v. Superman star Tao Okamoto as Hanaryo, American Gods trickster Jonathan Tucker as Craddock, Twilight alum Julia Jones as Kohana and Heroes Reborn star Kiki Sukezane as Sakura.
We'll likely learn more as next week's premiere approaches, so stay tuned.
Gallery: TV Twists That Fans Figured Out Way in Advance