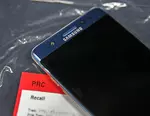 Samsung Expands Recall Of Galaxy Note7 Smartphones & Replacement Phones
George Frey, Getty Images
Samsung has expanded its recall of the Samsung Note 7 because of additional problems with the phones, including the phones issued to replace those originally recalled.
The United States Consumer Product Safety Commission announced today that all Galaxy Note 7 phones are being recalled. Samsung is printed on the top front of the phone and Galaxy Note7 is printed on the back of the phone. This recall involves all Galaxy Note7 devices received as replacements as part of the previous Galaxy Note7 recall on September 15, 2016 and any Galaxy Note 7 with a green battery icon, regardless of date purchased.
Samsung has received 96 reports of batteries in Note7 phones overheating in the U.S,. including an additional 23 reports since the September 15 recall. Samsung has received 13 reports of burns and 47 reports of property damage associated with Note7 phones.
Consumers should immediately stop using and power down all Galaxy Note7 devices, including recall replacements.
Contact your wireless carrier, retail outlet or Samsung.com where you purchased your device to receive a refund or free exchange for a new replacement device plus incentives. Click here for more information.