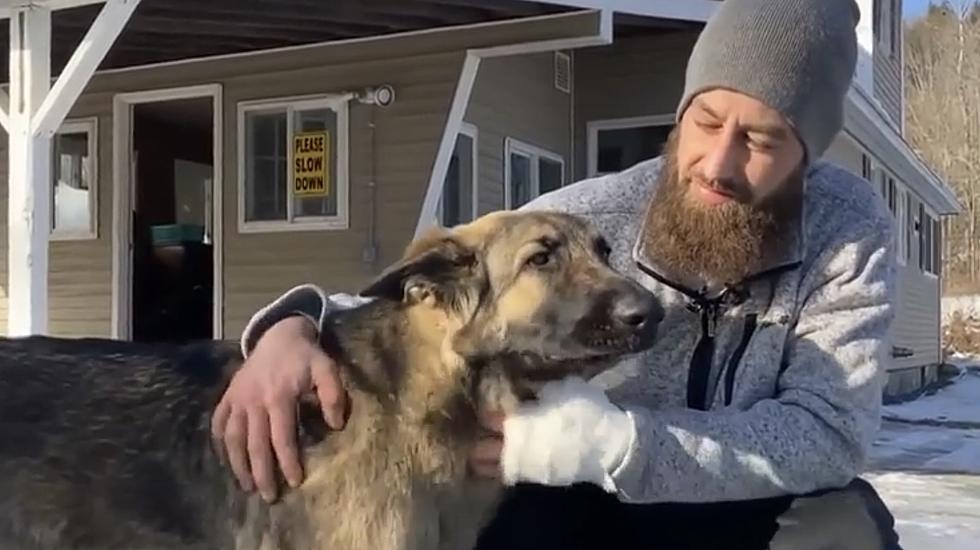 'Real-Life Lassie' Hero Dog Leads Authorities to Scene of Owner's Horrific Crash
Facebook via WDSU News
Reports say that a "real-life Lassie" helped lead authorities to her owner and a passenger that had been in a serious car accident. After authorities in New England responded to a call of a loose dog on the interstate, the German shepherd led them to the site of her owner's rolled-over truck.
Tinsley is a 1-year-old Shiloh shepherd who clearly has life-saving instincts. The report says that authorities were first called to the Veteran's Memorial Bridge located on Interstate 89 near the New Hampshire-Vermont border, as a dog was reported to be wandering around late at night.
When a trooper arrived to the area they reportedly spotted the dog but as they approached her, she began running north. Police initially thought the dog was running away from them, but she wouldn't get too far away before stopping to let authorities catch up. The report says that police on the scene followed the dog all the way to a damaged guardrail on the side of the interstate.
This is when authorities saw the dog looking down towards a severely damaged and overturned pick-up truck where her owner and another passenger were. The owner of the dog and the passenger were both seriously injured and hypothermic as a result of the cold, wet conditions per the report.
Authorities on the scene were able to call for medical assistance and the two people involved in the crash were transported to the hospital for treatment.
Cam Laundry is the owner of Tinsley and he called the dog his, "... little guardian angel". The report says that Laundry believes the incident itself was a miracle that the dog had the intelligence to do what she did.
Some on Facebook believe that Tinsley deserves a medal for her heroism.
I would have to agree with this sentiment, as Tinsley must be one of the goodest girls I have ever heard about. Truly, she deserves all of the boops and pets after leading authorities to her injured owner.
See the full story from WDSU News on Facebook below.
RANKED: Here Are the 63 Smartest Dog Breeds
Does your loyal pup's breed make the list? Read on to see if you'll be bragging to the neighbors about your dog's intellectual prowess the next time you take your fur baby out for a walk. Don't worry: Even if your dog's breed doesn't land on the list, that doesn't mean he's not a good boy--some traits simply can't be measured.