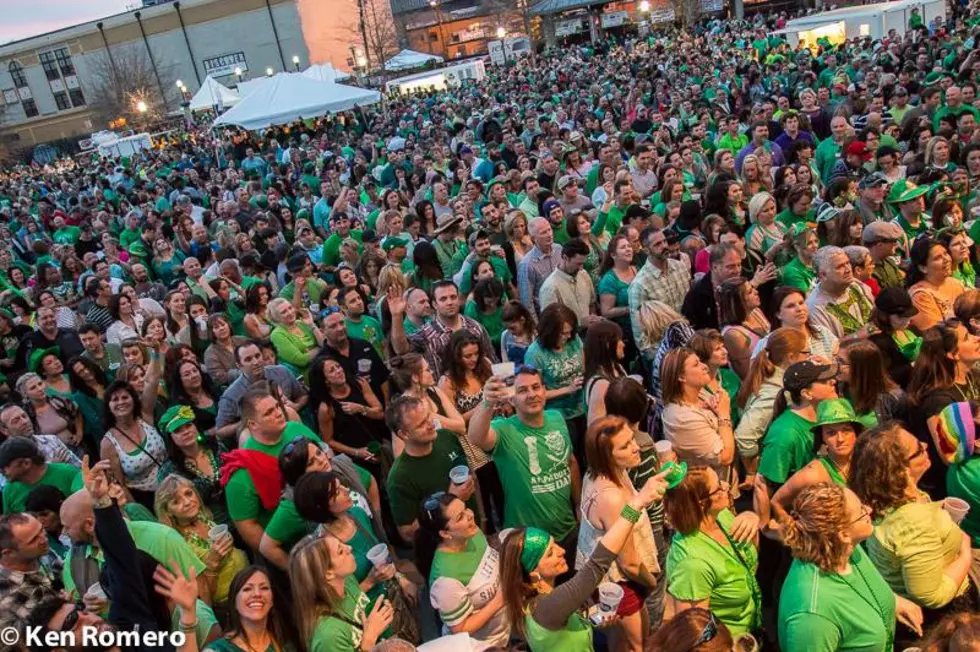 Patty in the Parc Canceled for 2021, but You Can Still 'Patty on the Town' in Downtown Lafayette
Ken Romero
Like most events scheduled for early 2021, Patty In The Parc is dealing with some bad luck.
The annual St. Patrick's Day celebration that normally takes place in Downtown Lafayette has been canceled for 2021 due to the current COVID-19 restrictions. The bad news is that we won't get to wear green while we enjoy live acts, great food, and green beer with a few thousand of our closest friends—but the good news is we're still giving you the chance to put on your green and spread some good luck in Downtown Lafayette.
Instead of enjoying your Patty in the PARC, we encourage you to safely enjoy your Patty on the TOWN—downTOWN that is.
It's no secret that our local bars, restaurants, and live music venues haven't had the best of luck over the last year due to the unprecedented coronavirus pandemic. While things are definitely trending in the right direction, a lot of these local businesses have been bearing the brunt of the mitigation measures that were put into place to help flatten the curve.
We can't wait to see you when Patty in The Parc returns in 2022, but in lieu of attending the largest St. Patrick's Day celebration in South Louisiana, we ask you to put on your green and head downtown at some point this weekend to have a beer, grab a bite, or just enjoy the sounds of one of the many local acts that will be performing in a variety of our downtown spaces.
Downtown Development Authority CEO Anita Begnaud notes that this weekend in Downtown Lafayette marks somewhat of a turning point for the district. With recently increased capacities in Phase 3 and COVID numbers continuing to trend down while vaccination percentages trend up, downtown businesses are moving in a different direction than they were exactly one year ago when everything came to a halt.
Make Downtown Lafayette a part of your weekend plans because we have something for everyone! Whether it be cheering on participants of the Zydeco Marathon, checking out amazing artwork during ArtWalk, visiting the Children's Museum of Acadiana and Acadiana Center for the Arts, or grabbing dinner with friends and family at one of our many locally-owned establishments... we encourage you to mask up downtown and patron our small businesses, which need your support now more than ever.
By now you know how to stay safe, and there is plenty of space to distance and all the guidelines are in place to allow you the comfort you need to achieve that. Also, be reminded that most places close by 11 p.m., and the state mask mandate remains in place along with the most recent capacity restrictions for venues. You can see a list of the current Phase 3 guidelines in Louisiana here.
In addition to ArtWalk this Saturday and the Zydeco Marathon happening all weekend long, here is a running list (that will be continuously updated) of what's happening downtown for you to Patty on the Town!
Best of luck, and we'll see you in 2022!
Grouse Room
Thursday: Hunter Deblanc
Friday: Mike Zito
Saturday: Rockin Dopsie
Sunday: Corey Ledet (Official Afterparty for Zydeco Marathon open to public 1-4p)
Rêve Coffee House
$3 bottles of Reve coffee stout Saturday during Art Walk
Releasing new Reve: The Movement coffee bags
Sales giveback to benefit Basin Arts all day Saturday
Hideaway On Lee
Friday: Rayo Brothers
Saturday: Linnzi Zaorski
Sunday: 90s Country Music Night
Marley's Sports Bar
Friday: DJ B-Rock
Saturday: DJ RV and The Debtors on Patio 8p
Jameson Swag given out all night
Tula Tacos & Amigos
Green Chile Mule specialty drink
(St. George Chile Vodka, Jalapeno Simple Syrup, Mint, Lime, Ginger Beer)
St. Paddy themed frozen drinks and menu items.
Rock N Bowl
Friday: Alligator Blue 8p
Saturday: Ray Boudreaux 8p
Sunday: Geno Delafose 5p
Very limited seated concert tickets on sale at rocknbowl.com
Legends Downtown
Friday: DJ Menace 8p
Saturday: DJ RV and The Debtors on Patio 8p
Jameson Swag given out all night
Central Pizza
Agave Garden specialty drink
(Tequila, cherry tomato, jalapeno, cucumber, lime, basil, celery, bitters, simple syrup)
Handy Stop
Awww Shucks! food truck with charbroiled oysters and boiled seafood Saturday during ArtWalk
Music in the parking lot
Drink specials
Nite Town
Friday: DJ Digital & RV
Saturday: DJ B-Rock
Jameson Swag given out all night
The Office Bar
Friday: DJ Scoop
Saturday: DJ SCARENCRO
Acadiana Center For The Arts
Gallery open to the public on Saturday 11 a.m. - 4 p.m.
AcA open for an ArtWalk Happy Hour from 5 p.m. - 9 p.m.
Drink specials plus four great art shows including an "Ode to professional wrestling."
Details here on AcA website.
Things We Are Ready To Do Again in 2021