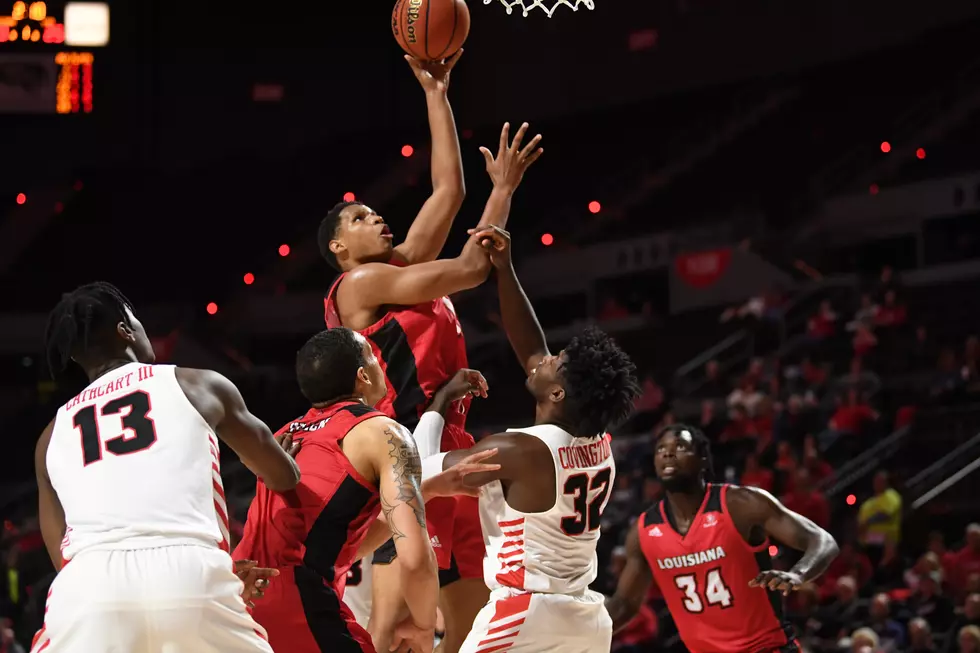 Louisiana Tops Youngstown State 73-61
Photo by Benjamin R. Massey
Louisiana's Ragin' Cajun basketball team improved to 3-1 with a victory over the Youngstown State Penguins 73-61 in front of a paid attendance of 4,804 at the Cajundome on Friday night.
Kobe Julien led the way with a career-high 23 points and 7 boards, while Jalen Johnson (pictured) finished with a double-double of 16 points and 10 rebounds.
It was tough sledding for awhile, as both teams struggled from the field in the first half, but Louisiana's defense was stout throughout.
"We did a nice job defensively," explained Louisiana head coach Bob Marlin. "That's the best defensive we've played this year in the final 10 minutes of the game...I really love the effort from our young men."
The Ragin' Cajuns pulled away in the final 6 minutes, grabbing their first double-digit lead of the game in the final 2 minutes.
When the Penguins attempted a late comeback, Louisiana iced the game at the charity stripe, going a perfect 22-22 from the free throw line in the 2nd half.
"We started making free throws and just continued (to do it)," said Marlin of the free throws. "They were all string music too, just cotton balls. They weren't bouncing around."
The win marks the 177th for Marlin with Louisiana, the third most for a head coach in Ragin' Cajun basketball history. It's D1 win number 302 overall for Marlin as a head coach.
Next up for Louisiana, a road game this Thursday versus the Wyoming Cowboys (1-2). Tip-off from Laramie, Wyoming is set for 8:00pm central, with pregame beginning at 7:30 on ESPN1420, espn1420.com and the ESPN1420 app.
Enter your number to get our mobile branded app