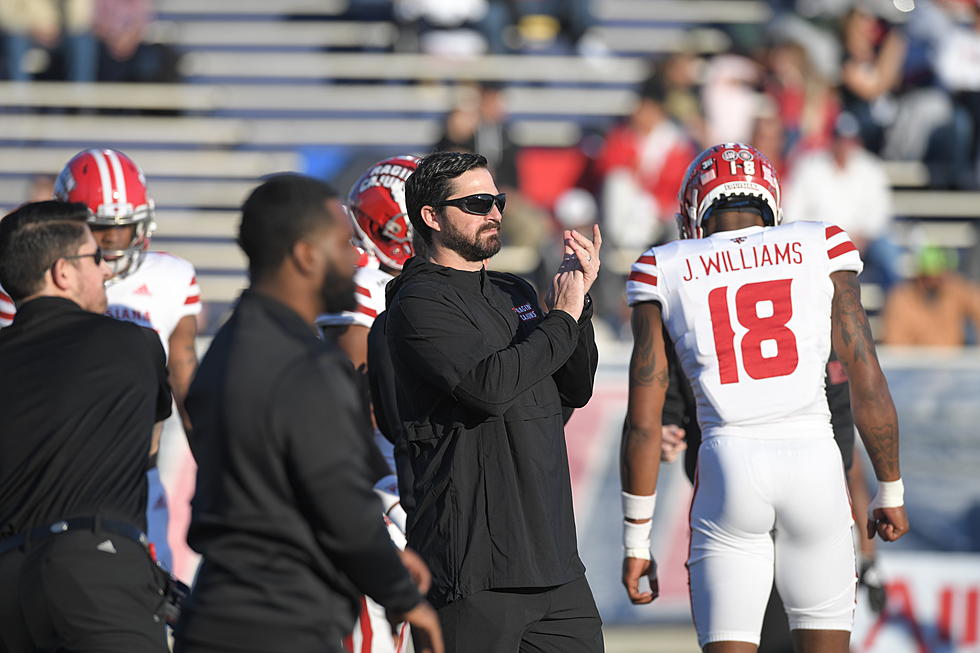 Louisiana Completes Annual Spring Vermilion-White Game
Photo by Brad Kemp/Louisiana Ragin' Cajun Athletics
The Louisiana Ragin' Cajuns football team completed their annual Spring Vermilion and White game on Saturday, April 9 at Cajun Field.
The way the scoring worked in this year's Spring game is every three yards gained on a play is a point for the offense while every play that goes for less than three yards is a point for the opposing defense. For instance, a pass play for 15 yards would go for five points for the offense while an incompletion would be a point for the defense. A negative play would be three points for the defense.
Team White looked great in the first two drills, but team Vermilion was very strong in the red zone drill. Both defenses controlled the full quarter of regular play following a break in the action. Head coach Michael Desormeaux talked about the Spring practices after the game.
Running back Jacob Kibodi of the Vermilion team got the first big play of the game, showing burst through the left side for a 20 yard gain. Kidobi, who is transitioning to the running back position talked postgame about his confidence in the new role.
Redshirt sophomore quarterback Lance LeGendre looked excellent on team White's first drive. He had two long completions, and a third deep ball was a good throw that he made rolling out of the pocket, but it went through the hands of his intended receiver.
Through two full possessions, team White had a 20-7 lead in points. The two teams then did a third down drill.
In team White's first attempt, freshman quarterback Zeon Chriss scrambled for a big gain. LeGendre re-entered and did the same, finding an opening for a nice scramble two plays in a row.
Following that, the teams did a red zone drill which Team Vermilion dominated after being down 32-10 through the first two drills. Quarterback Ben Wooldridge ran in from six yards out for a touchdown for team Vermilion. Wooldridge was very effective in the run game. He also spoke after the game about the team's quality quarterback room.
Team Vermilion held team White to a 42-yard field goal by Kenneth Almendares on their first red zone attempt. Fields threw a back-shoulder fade into the end zone for their second straight touchdown. Almendares missed a 46-yard field goal after team White went backwards on three straight plays.
For the second time in the red zone drill, Wooldridge ran from 23 yards out for another touchdown. LeGendre struggled in his red zone possession after looking great in the team's opening drills. Team White took a 63-45 lead into the break after an excellent showing on both sides in the four red zone possessions.
The full quarter of regular play began after the break, and the defenses shined while the offenses struggled. Team White went on a drive into team Vermilion's territory with two chunk plays before they turned the ball over on a failed fourth-down conversion. Team White's defense forced a three-and-out in response.
After team White punted, Wooldridge took over for Fields and had another big quarterback run of over 20 yards. They didn't do anything after that and punted. On a drive starting deep in their own territory, team White went three-and-out. Both teams were scoreless through a combined four possessions of regular play.
Team White finally scored, but it was on a special teams play. A blocked field goal was returned for a touchdown by linebacker Jasper Williams. Team Vermilion won the Spring game 82-73.
That will do it for UL Spring football. Their first game of the 2022 regular season is scheduled for Saturday, Sept. 3 against Southeastern Louisiana at Cajun Field.
10 Highest Paid College Football Coaches in 2021
2021 SUN BELT FOOTBALL COACHES SALARIES