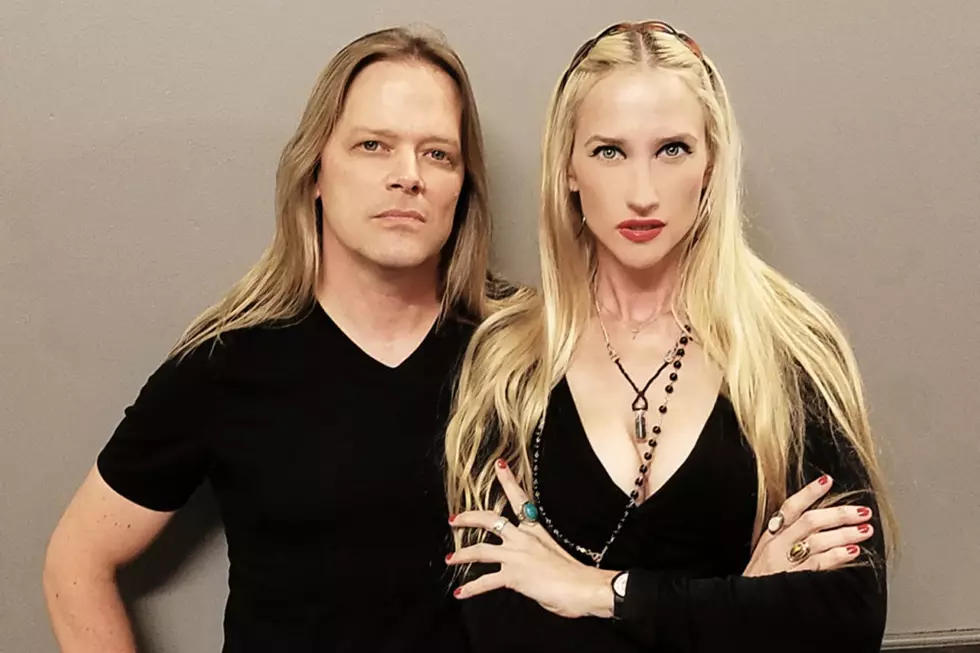 Huntress' Jill Janus Teams With Trans-Siberian Orchestra's Angus Clark for 'Victory: The Rock Opera'
Victory: The Rock Opera
Janus and Clark joined forces in New York City in 2006, conceiving the rock opera together. They continued to work on the project until Janus formed Huntress and the band's career started to take off in 2011. Her dedication to building Huntress kept her away from the project until recently.
Clark explains, "In '06 I was working on a couple of band projects, one was very theatrical and Mike Benigno was the drummer. We immediately hit it off and started working on a couple of songs just as songwriting and production partners. I had a studio in a rehearsal space in Manhattan where we would record everything. After Mike met Jill they came in and we worked on a couple of tracks – one of those I still want to release! It's called 'Skin Tight Fight,' great song. Jill and I really hit it off in that we can share ideas and are able to give and take criticism. So when she came in, the Victory idea was just a great progression of the writing partnership."
"Having grown up in musical theatre, I often draw inspiration from characters and actors in the musicals or operas I have performed. It's part formula, part imagination," adds Janus.
As for the story, the description describes Victory: The Rock Opera as a tale of innocence and lust. The story follows the titular character Victory, a teen social media superstar whose fame has given hope to the desolate and deranged.
"This is a sordid saga best viewed through rose-colored glasses. But take a peek behind the smoke and mirrors. There you'll find the lock that bears the seal of Zander. He is Victory's adoptive father, the builder of the pedestal from which she reigns. He's a crude man and the shady owner of the Divine Dive cabaret, where Victory is happily and unknowingly kept captive. That is until a wayward guitarist named Cameo enters the scene. But when Victory and her young renegade fall in love, they threaten Zander's ultimate plan: to auction Victory's virtue to the highest bidder when she turns 18. Enter a slew of seedy characters, Victory's strung-out mother, Veronica, and Tino the benevolent, sleazy snitch," reads the description, as the battle for between innocence and lust and Victory's self-identification come to the forefront.
Janus took an active role in creating the characters, stating, "I created the role of Zander as a combo of Fagin from Oliver! the musical and Rob Halford of Judas Priest. I attended college for musical theatre and music theory, and have a vast knowledge of the theatrical world. I came to Angus with the skeleton of the rock opera, a few songs, and the leading characters. He helped define those roles and then more roles were created to support the leads, to define the storyline."
Janus adds, "The storyline tackles issues facing young adults, particularly the title character Victory. The taboo attached to sex is archaic in the United States for many women, causing lifelong psychological issues. Victory's character scope reminds me of young Disney or Nickelodeon entertainers who have been conditioned to praise virtue, abstinence, and Christianity until there's some explosive, life-altering event that sends them spiraling into self-defeat."
"My hope with the role of Victory is to abolish some of that female sexual stigma, showing the humanity instead of humility, and building self-confidence instead of self-hate," says Janus, who says that she and Clark are now looking to showcase Victory: The Rock Opera in Manhattan, find some investors and develop the rock opera further from there.
Janus voices the role of Victory in demos, while Clark takes on the role of Zander and Mark Rinzel sings as Cameo on a track, but Janus says she doesn't envision taking on the role as she's too old to play the part. However, she does suggest Clark would be an ideal musical director for the project. At present, there are six demos for Victory: The Rock Opera, including the songs: "I Was Made for You," "I Know a Thing or Two," "One Look," "Nothing I'd Rather Do," "Let It Begin" and "Young as You Are." Demos of the songs can be heard at the project's website.
Meanwhile, as Janus informed us, Huntress are nearly finished with pre-production for their next album with time set aside to record their fourth studio release in late summer. The vocalist has also been working on a project with guitarist Monte Pittman and producer Jay Ruston.
As for Clark, he recently completed work on his first studio album with Daredevil Squadron and has continued to be part of the Trans-Siberian Orchestra family for well over a decade.
See Jill Janus + More of the Top 50 Hard Rock + Metal Frontwomen of All Time