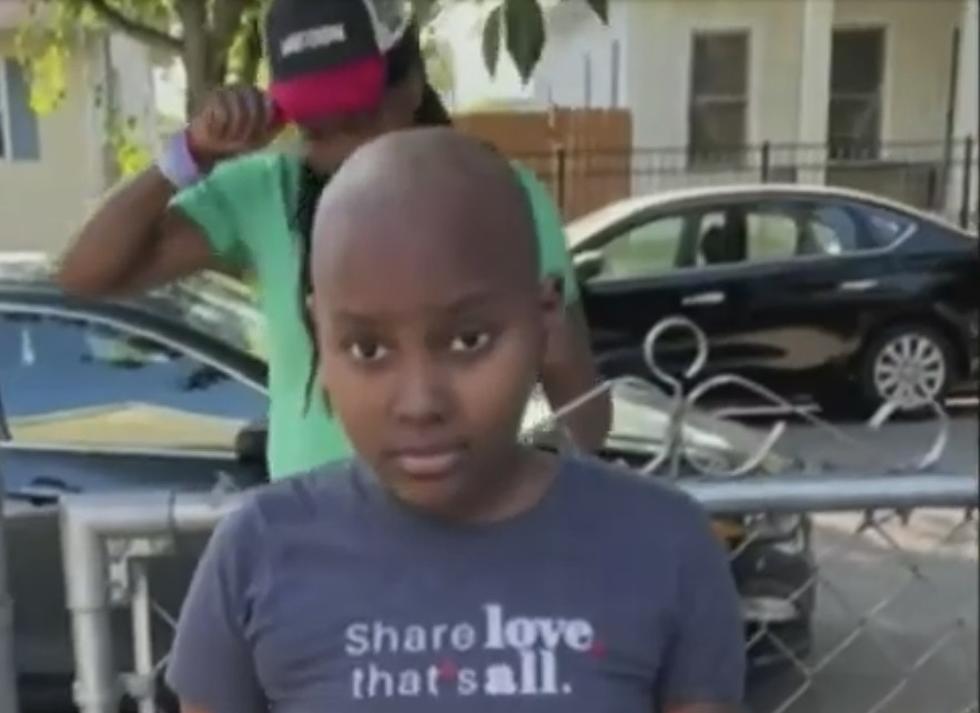 Dad Growing Hair for 9 Years, Decides to Cut It Off for His Daughter
Photo courtesy of WFAA
CHATTANOOGA, Tenn. (999 KTDY) - You might be able to imagine the fight that an 11-year-old child with stage 4 cancer has for survival.  A parent will do anything to show their love.
According to News9, D'Andray Thomas' daughter Brielle is fighting Nasopharyngeal cancer. The father says he wants his daughter to understand that whatever she has to go through, he will be there at each step to do it together. She has another round of chemo, and she still has 7 more weeks of radiation.
As this cancer is stage 4, BriBri, as they call her, has struggled through this process, and recently she ended up having to shave what was left of her hair off because of the chemotherapy she has been taking.
He says to his daughter,
I'm going through whatever you going through, we'll go through it together always. There is NOTHING I wouldn't do for mines. I love you Bri Bri.
And he showed his daughter exactly how much he loves and supports her by getting rid of something he worked he worked 9 years to grow; his dreadlocks.
This story touches home for so many families in Acadiana as they have had to battle with their children to fight cancer. We see some of these families each year during the St. Jude Radiothon. So many people in Acadiana give months to St. Jude Children's Research Hospital to help children battling cancer.
Another group that helps people in Acadiana is Miles Perret Cancer Services. They have a huge research library, and they offer much help to anyone battling cancer in our area.
This little girl is fighting for her life, and her dad says she is the one who is trying to help others who are also fighting cancer. BriBri says,
I mean, if I tell them the story and how much people support you in it, and the love and prayers you get from other people, that can probably help somebody that's also going through it.
BriBri was super surprised after her dad did his gesture of love, and cut off his dreadlocks.
Brielle says she is going to ring that bell one day, the bell everyone rings when they are cancer-free. She adds when she does that her dad promises he will take her on a cruise.
70 Google Maps Images That Show How Much Lafayette Has Changed