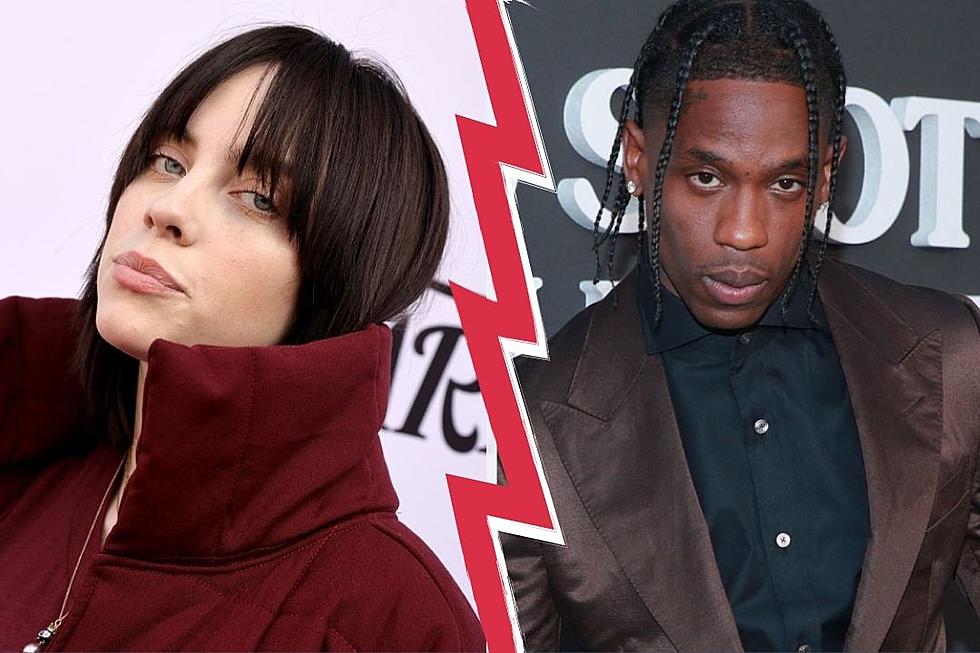 Billie Eilish Stops Concert To Save Fan, Seemingly Shades Travis Scott
Rich Fury / Kevin Winter, Getty Images
Billie Eilish is going viral for all of the right reasons after spotting a distressed concertgoer in the crowd at her Atlanta show on Saturday (Feb. 5).
While "the show must go on," and it did, Eilish took time to make sure the fan was safe before resuming her performing — and she seemingly threw some shade at Travis Scott in the process.
While in the middle of performing her song "bad guy," Eilish noticed a woman in the pit near the stage experiencing breathing issues.
Eilish stopped singing to attend to the distressed fan, instructing stage crew to retrieve an asthma inhaler.
"Guys, give her some time. Don't crowd. Relax, relax, it's okay," Eilish told the audience, attempting to calm the crowd while crew attended to the fan in need.
Her quick thinking and fast response may have helped save the fan's life.
If this incident gives you Astroworld Fest flashbacks, you're not alone.
"I wait for people to be okay before I keep going," Eilish told the audience, appearing to throw some low-key shade toward Scott. Hundreds were injured in a massive crowd crush that resulted in the deaths of 10 people at the rapper's ill-handled November 2021 Astroworld concert.
Her hard-hitting remark was echoed by supportive fans and triggered massive applause.
Watch below:
This isn't the first time Eilish has put her fans first while performing, or even the first time she's halted a concert to help someone.
In 2021, Eilish helped a fan who had fainted during the singer's set. She immediately provided water and urged the crowd to remain calm until the fan regained consciousness.
TikTok user @mads_pan shared a compilation video showcasing the incident, as well as several other moments where fans were prioritized during a live music event.
"Live music is a sanctuary; safety is the foundation," the caption for the TikTok reads.
Watch below:
Celebrity Clapback Songs